Last night we ambled over to the Old Gate Inn for our last taste of home, but we might have well not bothered. The beer and cider were good, but the food, especially as it labels itself a "gastropub" was not. My game pie in suet turned into game pie with a puff pastry crust and Sarah's veggie burger was dry as sawdust. The history of the pub was interesting however. When it was built in the early 18thcentury it was a pub combined with one of the toll gates for Canterbury. The publican was supposed to serve ale and collect tolls!
We were up nice and early. Not because we wanted to but because Mabel made sure we couldn't sleep beyond 6.30. Having walked the dogs and breakfasted we set off for the 20 mile journey to the Channel Tunnel. Our fears of being impeded by stranded lorries were groundless. Although there were fairly long queues of trucks at the tunnel itself, Operation Stack had obviously done its job of preventing clogged roads.
Taking Basil on the Eurotunnel train is becoming second nature. I think this is the seventh time he's crossed the channel in one direction or the other. He is a tight squeeze width wise, but with a bit of care driving onto the train is not difficult compared with the many hairy adventures he's been involved with.
Our standard procedure now for the 35 minute crossing is to retire to our beds and relax. It's like having our own superior sleeping compartment. The train emerged onto French soil at 1 pm European time.
The plan was to drive 50 miles or so along the coast to a place called Stella Plage and there park up on an aire I had read about which is next to an extensive beach. With the winds gusting at 50 mph plus, the wisdom of this idea was questionable but I had no other. Basil took a good old buffering as we navigated the journey, failing to find the ATMs we needed to top up our supply of Euros. It was lucky that we had a few Euros with us because we spotted an open boulangerie as we approached our destination and our first baguette was purchased for a late lunch.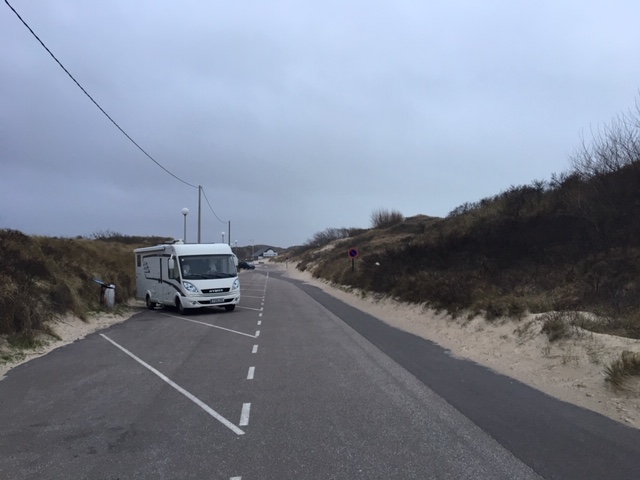 As we pulled up at our overnight spot (50.474121, 1.577372 – free aire with water and dump point) we found that the aire was behind some large dunes and so Basil was slightly sheltered from the wind. An attempt to walk over the dunes to the beach was thwarted after lunch by the winds. The sand was blasting us viciously even as we climbed the dunes, but as soon as we reached the crest we couldn't even open our eyes. I attempted to take a photo of the beach but couldn't see what I was doing and you can view my effort below! We quickly retreated to the safety of Basil and the four of us promptly dumped a large quantity of sand in Basil's interior as we dusted ourselves off. We will be finding sand in all of Basil's nooks and crannies for weeks.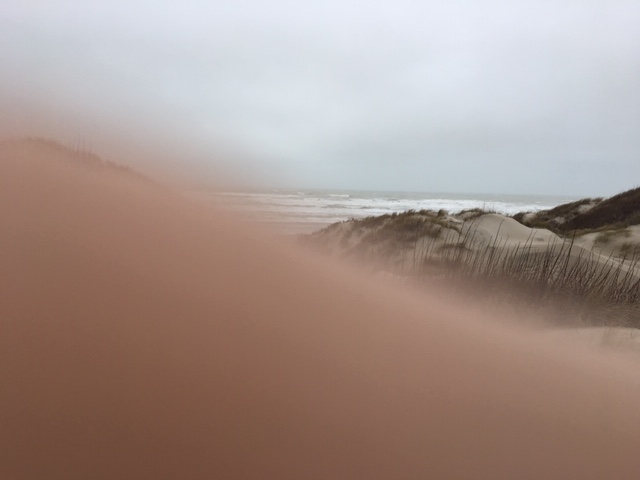 Looking at maps today, I think we will attempt to reach the Mediterranean in three hops. Tomorrow we are aiming to get well south of Paris, but we will, as usual, be avoiding toll roads and so progress will be slow. Today I worked out that if we saved a day by using France's excellent motorway system it would cost us over £120 in tolls to reach the Med and that sort of money can be better spent on grog and meals out in Italy and Greece!