International Driving Licences – 1968 Convention: tick; International Driving Licences – 1949 Convention: tick; Insurance Green Card: tickety tick tick tick. We're on our way to Europe again, but this time armed to defend ourselves against the Maybot Withdrawal Agreement; No Deal; Article 50 Extension; Article 50 Revocation; and even the Malthouse Compromise A or B! In fact whatever the swivel eyed loons in our Parliament can throw at us.
Luckily we are leaving the country before 29thMarch, because after that date, if we drop out of the EU without a deal our furry friends, Mabel and Melek, would have to be stuck full of needles for something called a titration test. The pooches have been vaccinated against rabies for years (it's necessary for their Pet Passport) but if we leave the EU without a deal they will have to be tested to ensure they have the correct level of rabies antibodies to comply with French law. Even though there is no need for a titration test in Belgium, for instance, the Belgians can happily take their dogs to France with no checks. I have read that there are no checks on dogs coming from countries like Morocco or Turkey, countries with endemic rabies, into Spain or Greece, and then of course to any country in the EU, but animals from Britain, one of the few rabies free countries in Europe, will require every vaccination and test under the sun.
I hope this is the last I write about Brexit in this blog. As someone who has been mildly interested in the process (note my namedrop of the the Malthouse Compromise) even I am getting fed up of the sterile debate going on in the House of Commons.
So you might have gathered we are leaving it all behind and hotfooting it to the South of Europe where long warm days and gallons sucked from the EU wine lake can help us to forget!
We've got leaving to a fine art. The packing list has been refined and refined, so packing Basil is now almost second nature. After final checks this morning we set off at 11 am for our now familiar route south to the Channel Tunnel. Well, that's not quite correct. Basil has stopped a few miles short in the now familiar, and still excellent, Canterbury aire (51.261501, 1.100224). I blogged about the Canterbury aire last year, but I still must praise Canterbury council yet again for the enlightened thinking that their European neighbours embraced en masse years ago. £3.50 per day, including unlimited use of the buses in Canterbury! You can't beat that.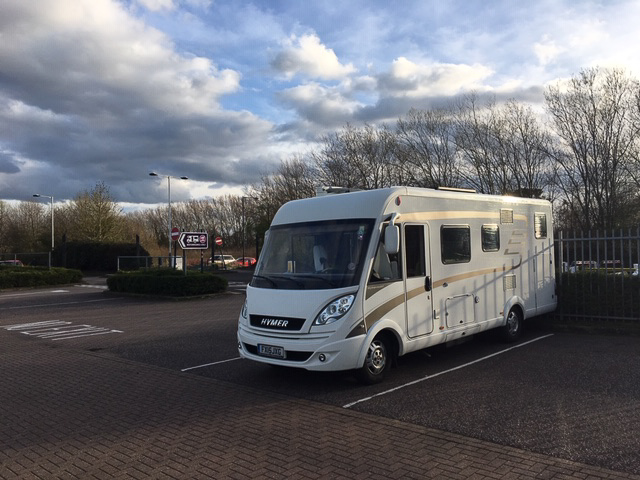 Tonight, being our last night in Britain for a while, we are off the dog friendly pub next to the aire, for a pint of Kent's finest and some suitably stodgy British fare.
We are booked on Le Shuttle at 11.30 am tomorrow, but are a little worried about getting to the tunnel, because high winds has forced Operation Stack* into operation and we don't know whether we will get fouled up with lorries trying to get to Dover.
Our plan this year is to be away for 3 months and our initial destination is Italy. To be specific Southern Tuscany and Umbria, neither of which we have explored before. After that we don't really know. One option is to get a ferry to Greece and work our way up through Bulgaria and Serbia to Croatia. Alternatively we might just drive north from Italy to Croatia and then possibly look around Austria and Switzerland. We will see how we feel and I suspect weather may play a part.
* For non-Brits Operation Stack is a process where the M20, one of the motorways to the English Channel ports, is turned into a massive car park for lorries which have built up due to disruption on cross Channel routes.