Apparently this means "Hello Serbia" in Serbian according to Google Translate, but it could say anything as far as I know. Anyway, we are at last in Serbia.
We tore ourselves away from Ivan's back yard on a bitterly cold morning. For some reason the temperature had dropped to 10ºC and during our journey, at one point, dropped to 7º! Luckily tonight the sun has come out and normal service, temperature wise, has been resumed.
We filled up with super cheap diesel and gas on our way to the Serbian border and before long we were at the border crossing. This is no Shengen, blink and you'll miss it, border. This was a proper old fashioned change of territory, complete with no mans land, passport stamp, the lot. It was actually much easier than I had imagined. Both the Bulgarians and the Serbs made a cursory glance into Basil, past a growling Mabel, but neither actually stepped foot inside. In fact the Bulgarian guard spent more time tickling Melek than she did on any proper border guard duties. The whole crossing took no more than ten minutes maximum and we are now the proud possessors of a Serbian passport stamp.
Most of the road today was good quality motorway, some newly built. There was still a section which hadn't been completed where we had to wind our way through an impressively narrow gorge, complete with unlit tunnels and landslide warnings.
We had planned to stop for lunch in Nis, the birthplace of Emperor Constantine, but after making our way through un asphalted roads in the centre and not finding a parking place we gave it a miss. I knew there were other parking spots in the city, but being in Serbia means we can't use our mobile phones to access databases. ID, who provides our phones, charges £2 per MB for data and Three, who we use for our MIFI, wants £6!!!!! Scandalous, but it just shows how dependant I have become on the internet for researching our travels.
Lunch was finally taken at a motorway service station where the lowlight was a row of toilets, out in the open, for lorry drivers to relieve themselves. There were no screens to shield them from our sensitive eyes. Another first for us.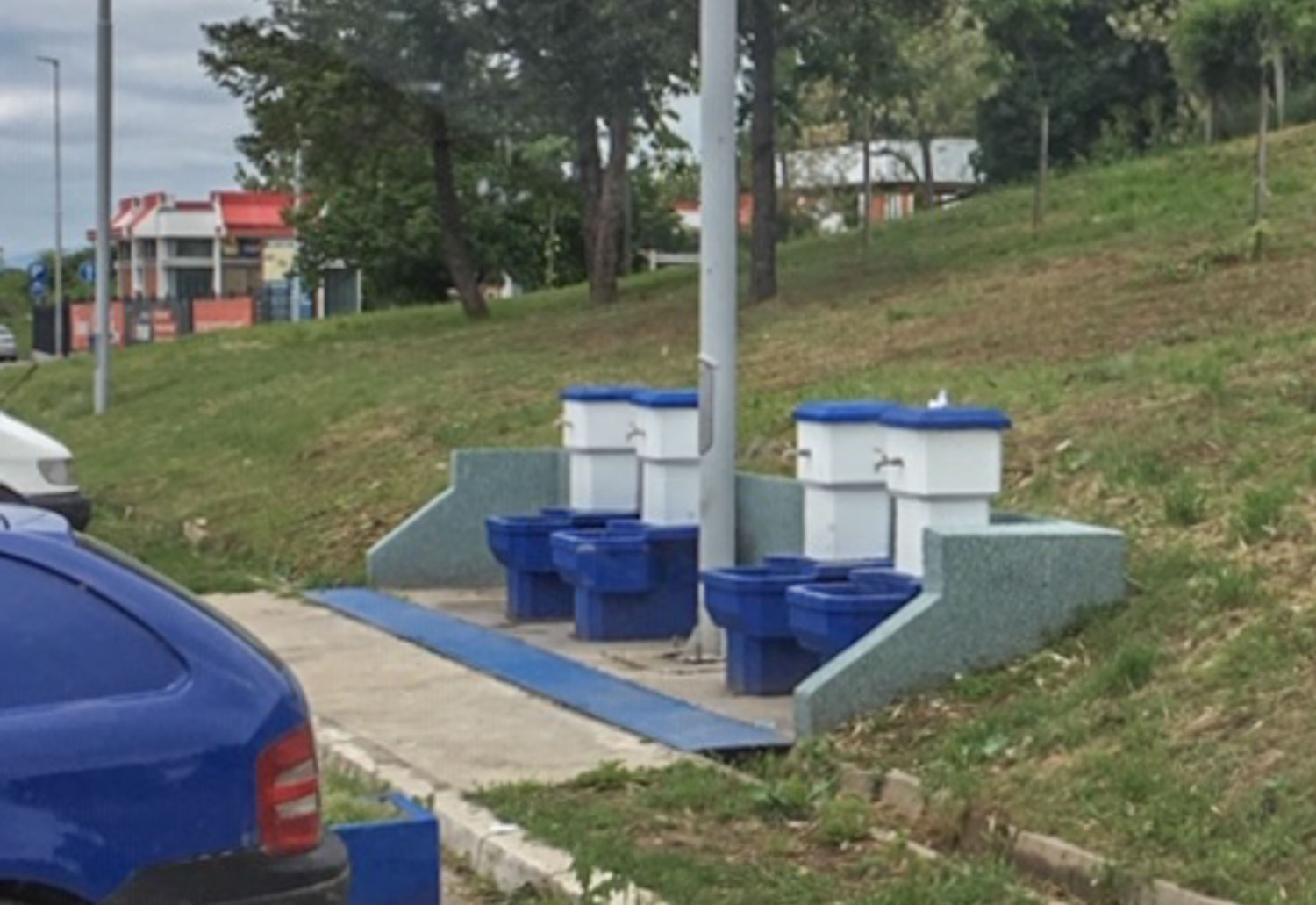 Because most of our journey was on motorway we haven't been able to make much of a judgement about Serbia. The countryside, being in the Balkans, was less mountainous than I was expecting. From what we saw in Nis and from the motorway the housing stock looks generally to be in a very poor state. We saw numerous horses and carts, not on the motorway thank goodness, but in the streets of Nis. Shockingly we saw several dogs wandering the edges of the motorways, including a small pack at one stage. We will have to take a stick when we walk the Mabel and Melek I fear.
After several false starts from SatNav we finally found our campsite near the city of Jagodina. The owner ofCamping Ruža Vetrova (43.959131, 21.265280 €21 including electricity) has put considerable effort into fashioning a series of flat pitches out of an extremely steep hillside. I managed to get parked up before he showed me a flatter area for big motorhomes. I just hope we don't have rain overnight, otherwise I might struggle to get up the slope out of the campsite. Fortunately the campsite has fast WiFi, so I have spent the latter part of the day downloading strategic maps for use offline and making a list of co-ordinates so we can manage the next couple of days without using online data.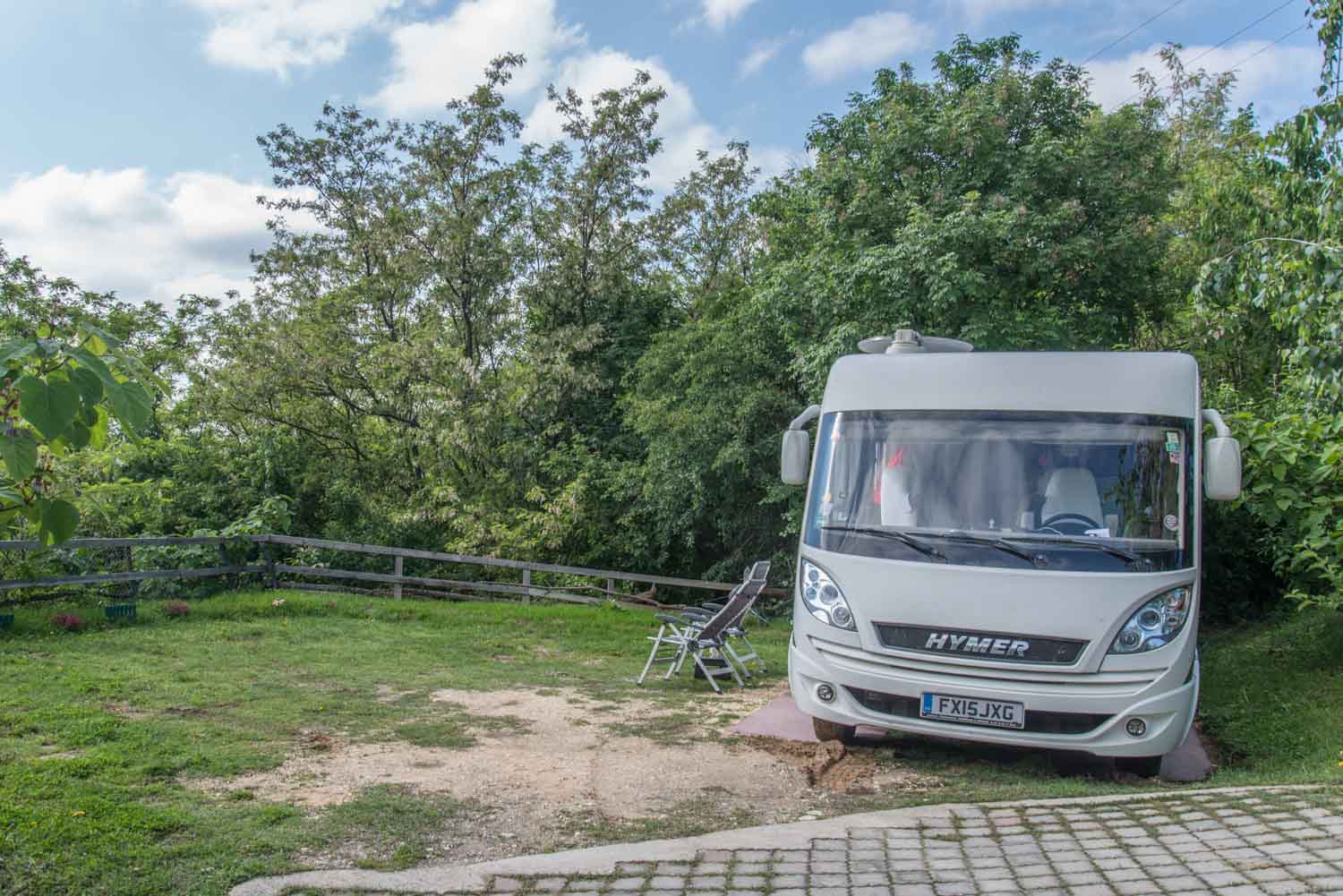 Our campsite owner speaks French as a second language. My French is sufficient to navigate a campsite stop, but I did not fully understand about some official looking documents, including a formal looking stamp, which he says we need for the police. A Swedish camper, with a Serbian wife, has told us that we should register with a police station within 24 hours of entering Serbia, but on looking at the papers the campsite owner has given us, we both think that they are the registration documents we need. If there are no posts for a few days we may be languishing in a Serbian jail. Please let the British Consulate know!!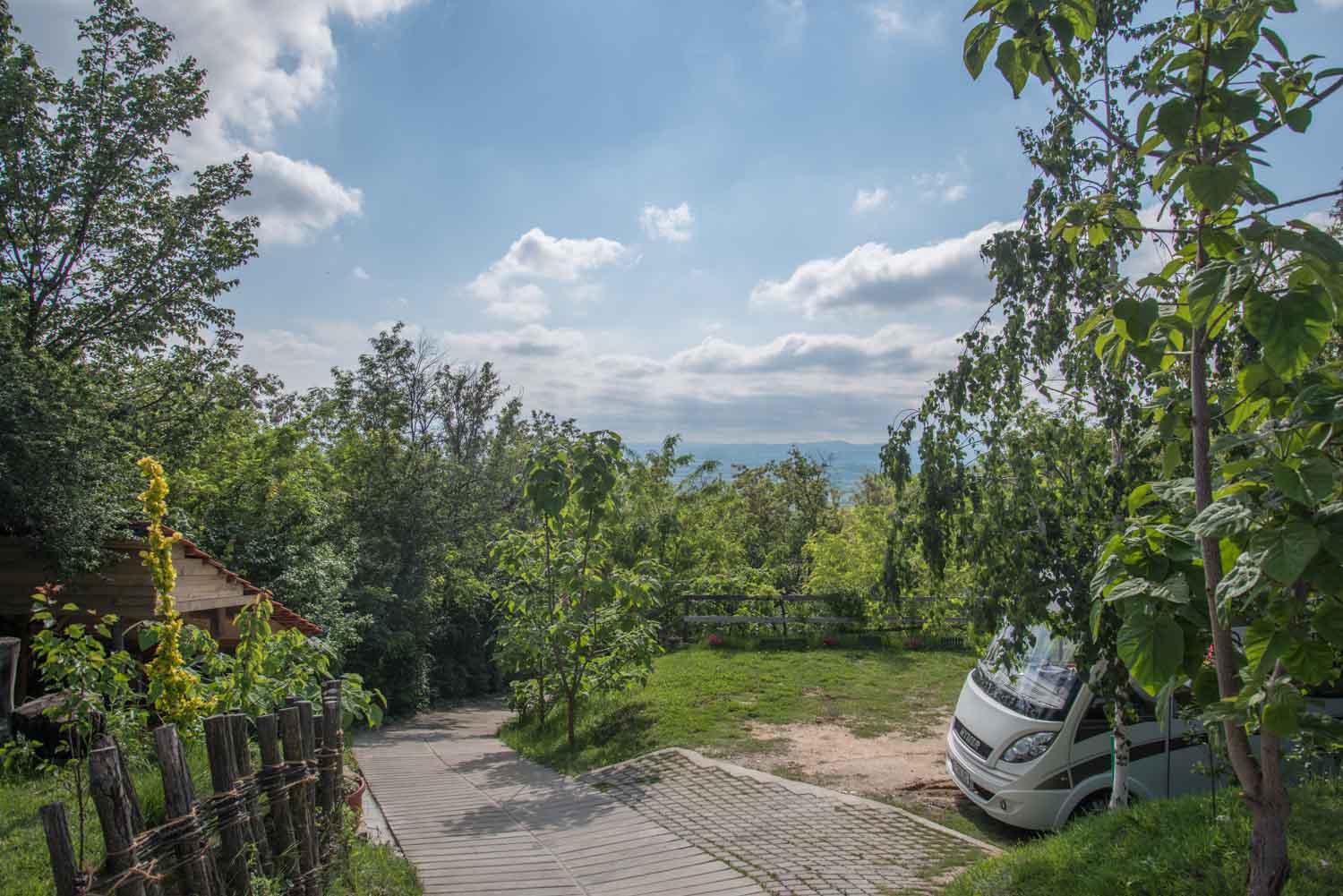 Tomorrow we are heading to the north west of Belgrade to another campsite and perhaps visit something on the way.