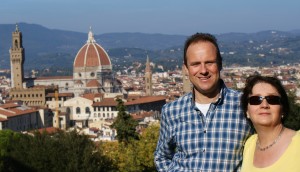 Hi, we're Tim and Sarah. Tim was a solicitor and Sarah a National Health Service Manager. We're in our mid to late 50s and have loved travelling throughout our lives.
It has always been a dream that when we retired we would spend as much time as possible travelling. We have finally retired and are embarking on our first long trip in Basil, our Hymer motorhome.
We long ago realised that, although our pensions would be very respectable, they would not allow travel in hotels for more than a few weeks of the year. We also have two lovely dogs who would not be able to travel with us if we used aeroplanes, trains and hotels.
Tim grew up caravanning with his parents from the age of one and so has long been a fan of the caravanning lifestyle. When our children were small we used Eurocamp and the like to camp throughout Europe. We also owned our own, basic, caravan for 5 years in the mid to late 1990's and luckily Sarah loved the life as much as Tim.
It was therefore our plan that our retirement would be spent travelling with our dogs, throughout Europe, in a caravan …….. until we met two couples when we were hotelling in Sicily who explained to us the joys of a motorhome. Until then we had assumed motorhomes and caravans stayed on the same campsites and had dismissed motorhomes. We thought motorhomes were cramped, when compared to caravans, and we did not like the idea of packing up every morning when we wanted to drive anywhere.
The motorhomers in Sicily explained the huge system of Aires throughout Europe which were available to motorhomes and not caravans. When we got home further research reaffirmed the existence of the Aires network, but we also discovered free farm camping (France Passion and the like) and wild camping, all of which were available to motorhomes and not caravans.
We then thought about the sort of travelling we planned to do and the benefits which we thought caravans enjoyed. Our caravanning had been as a family and usually involved staying in one place for many nights, using our car to explore. Our thoughts were that as a couple we were more likely to move more often. Suddenly the thought of pitching and unpitching a caravan every day or so, especially as we got older, seemed less appealing. This, combined without new knowledge of overnighting possibilities in Europe, slowly made us realise that a motorhome was the way for us to go.
For what it's worth having caravanned and now motorhomed, our view on the pros and cons of each can be summarised as:
Caravan – best if you want to stay in one place for long periods or solely holiday in the UK where there is no real network of off campsite stopping points for motorhomes. Caravans offer more space, but they take much more setting up and putting away and they cannot make use of the multitude of aires, farm stops or wildcamping opportunities available once you cross the English channel.

Motorhomes – best if you want to move regularly and especially if you wish to make use of the great motorhome only facilities and opportunities available in continental Europe.
How we came to choose Basil, our B588 Hymer, is explained here.