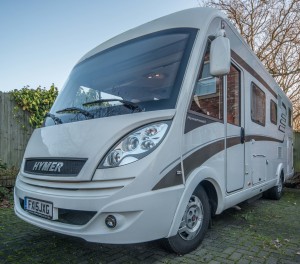 Basil is a B588 Hymer motorhome. He was manufactured in early 2014 and sat on the forecourt of Dürrwang and Co. in Dortmund, unloved and unwanted until May 2015 when we bought him.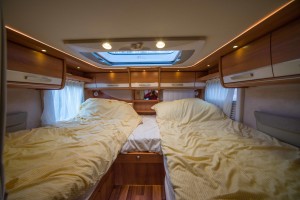 His main features are twin single beds, which can be made up to a huge double in a couple of seconds. He also has a king size bed over the driving seats, which can be pulled down very quickly.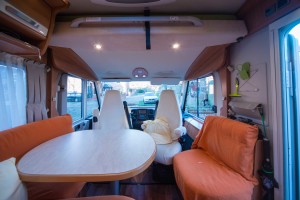 For sitting the drivers and passengers seats swivel 180 degrees and then around the main table there are four other seats, meaning we can accommodate 6 people for a meal or drinks. The table moves in all possible directions, making it easy to adjust a appropriate.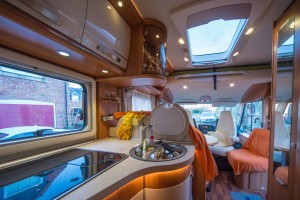 On the cooking front he has three gas burners and an oven/griill. The over works very well, but I am less impressed with the grill. There is also a huge 140 litre fridge freezer, which works on either gas or electricity.
In the bathroom is a great separate shower, basin and Thetford cassette toilet.
The storage availability is enormous. In addition to the normal cupboards, there is a wardrobe, storage under each bed and under the steps leading up to the bed. The floor contains two enormous storage spaces, each big enough to swallow more than 24 bottles of wine!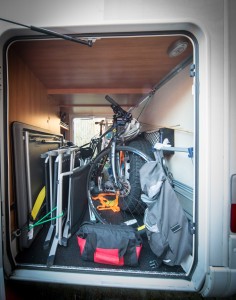 The ultimate storage space is the garage, which can accommodate a motorbike! We have it stuffed full of our outdoor seating etc.
On the driving front, Basil had an upgrade 150 bhp 2.3 litre Fiat diesel engine with manual gearbox and cruise control. He has an upgraded chassis.
As extras Basil has a 80 W solar panel feeding both the engine battery and two 85 Ah leisure batteries. This means that in the summer we can be totally self sufficient on electricity.
We have a reversing camera which proves essential for manoevering and we had had installed an all singing all dancing Hymer SatNav/Media Centre.
Our final luxury was an 85cm self seeking satellite dish linked to a colour television. After 18 months with Basil, this is one luxury we probably would not repeat.