Basil had been prepared for his first outing on 2016 and so we took the Friday afternoon off work and Basil whisked us to the Caravan Club's site at Castleton in the northern Peak District, Derbyshire. The site is beautifully located in Hope Valley with great views of the fells and about 800 metres out of Castleton.
On Friday night, as is becoming our tradition, we walked the dogs into Castleton for a nose around and then the Ye Olde Cheshire Cheese, a dog friendly pub with a good selection of real ales. With the dogs settled, we had a couple of drinks and some very palatable food for dinner.
We ended the evening with walk back to Basil and a fairly early night.
Saturday morning dawned with a lovely blue sky; although the temperature was still only 6 degrees. We had decided that if the weather was good we would walk the famous Mam Tor Ridge. The walk was going to be about 8 miles with plenty of climbing, so we decided for the first time ever to leave old Molly behind. At 12 years old she spends most of her time sleeping and we thought the walk might be a bit much for her.
Having breakfasted and tidied Basil we, and the two dogs, set off on fairly steep climb up Lose Hill, which forms one end of the ridge. The weather was windy but clear and by the time we reached the top of Lose Hill the views were fantastic. We got a great view of Kinder Scout, the 1932 sight of the great mass trespass, a first step in getting Britain's great open spaces available for the enjoyment of the public.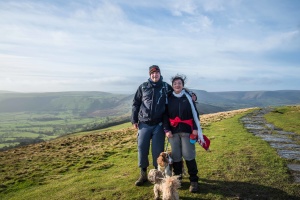 We followed the ridge along to Mam Tor, the highest point and after a bit of off piste scrambling, descended on a very unconventional route back down to Castleton. We were out of luck in locating a dog friendly tea room with space, but we compromised by buying some great homemade cake on the way back to Basil.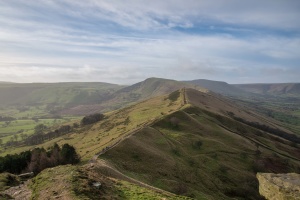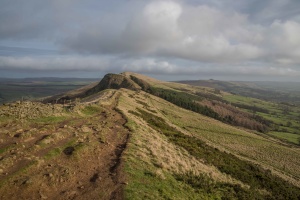 Tim rustled up a prawn and pea curry and we watched some BBC iPlayer before turning in.
Sunday on a Caravan Club site is often an anti climax, because you have to be off site by midday, which gives little time to do anything worthwhile. However, because it was January Sarah inquired if we could stay a little longer, which we could. So after breakfast we walked the dogs to Peverill Castle, which is an old Norman Bailey situated on a steep hill above Castleton.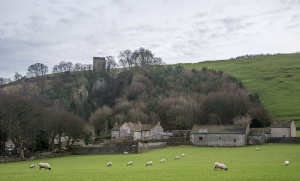 The English Heritage guardian of the site managed to persuade us to buy an annual membership, which I somehow doubt we will get our value from. Dogs were welcome so we climbed the steep hill to the castle. The castle is nothing much to get excited about. It is essentially a small, stark keep. However it's location on a steep hill with cliffs on two sides, is spectacular and well worth a look.

We returned to Basil for a lunchtime sandwich and I experimented with a new acquired milk frother to make our first frothy coffee in Basil. That finished we had an uneventful trip home.