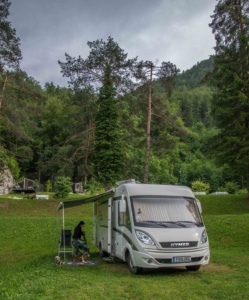 We've decided to stay an extra day at Lake Bled as the weather promised to be a little better.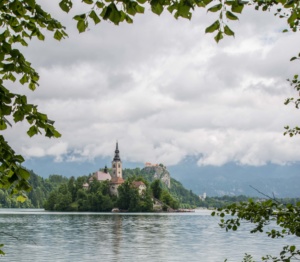 We decided to walk round lake Bled. It's a beautiful small lake, which when the sun hits it is a bright turquoise colour. This is complemented by it being surrounded by forested mountains. In the centre of the lake is an island containing a picturesque church and finally looking down on it all from atop impregnable cliffs is Castle Bled.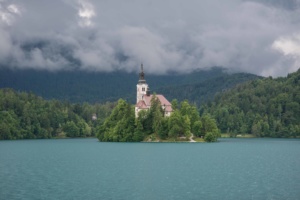 Our walk allowed us to view all of this. First in sunshine, then in showers and finally in a mixture of both. I guess, being in the mountains, the weather is never going to be consistently good, but we are glad we stayed to sample its charm.

Bled town, at the opposite end of the lake to our campsite, was, to us, a disappointment. It gives the impression of being a modern spa town and out of season everything seemed shut. It still had its share of tourists being disgorged from their buses and I wonder whether in the height of the season it may be unbearably crowded.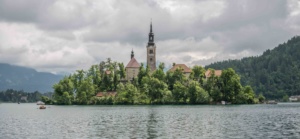 I think tomorrow we are heading for Croatia, but the weather forecast for Croatia, and most of Europe, is not good for the next few days.