Sarah and I sat outside on a perfect summers evening last night, watching the sun slowly sink behind the mountains, from the vantage of our slightly dodgy overnight "rest area", along with 9 other rebellious rule flouters! We couldn't see the horizon, because of the mountains, but my clever sunshine app informed us that last night, even if we had had a clear view of the horizon, the sun would have completely disappeared for two hours. Even though we are still north of the Artic Circle, the midnight sun has come to an end. It will cling on for another few days up at Nordkapp.
We had a peaceful night, apart from some particularly noisy cows and their bells and a raucous magpie in the early hours. But no visit from the Norwegian Police or even the mayor of the local council, to tell us accompany them to the station or even to sling our hooks. Whether they sporadically enforce the no camping policy in this car park, I just don't know.
For the last two or three days I have felt a bit jaded when we have stopped for the day. It feels, heaven forbid, that I've done a hard days work. I keep saying this travelling is not all beer and skittles. We concluded that it's too long since we had a proper break. It is nearly a month since we have stayed on a campsite for more than one night, so we decided today to go to the nearest campsite and spend two or three nights recharging our (mostly my) batteries.
It may look as if this lifestyle is idyllic and a piece of cake and mostly it is. But there is a certain amount of work that goes into making it run smoothly, especially where you get to the more interesting bits like Norway. It would be easy to go to Nordkapp and then just follow the signs for Oslo and head south on the main roads, but that's not the most fun. So everyday there is detailed route planning, sorting out what we do and do not want to see and deciding on several options for overnight stops. It can take it out of a man, I can tell you. What? I can't hear any violins! Louder please!
So we nipped into the nearby town of Leknes, to our new LIDL substitute (Norway sadly has no LIDL) REMA 1000. We've read REMA 1000 is one of the cheaper supermarkets, there are plenty of them and the range is pretty good. We topped up with a few essentials, to get us through the next few days and headed for our chosen campsite, Brustranda Sjøcamping, near Valberg (68.203482, 13.887438).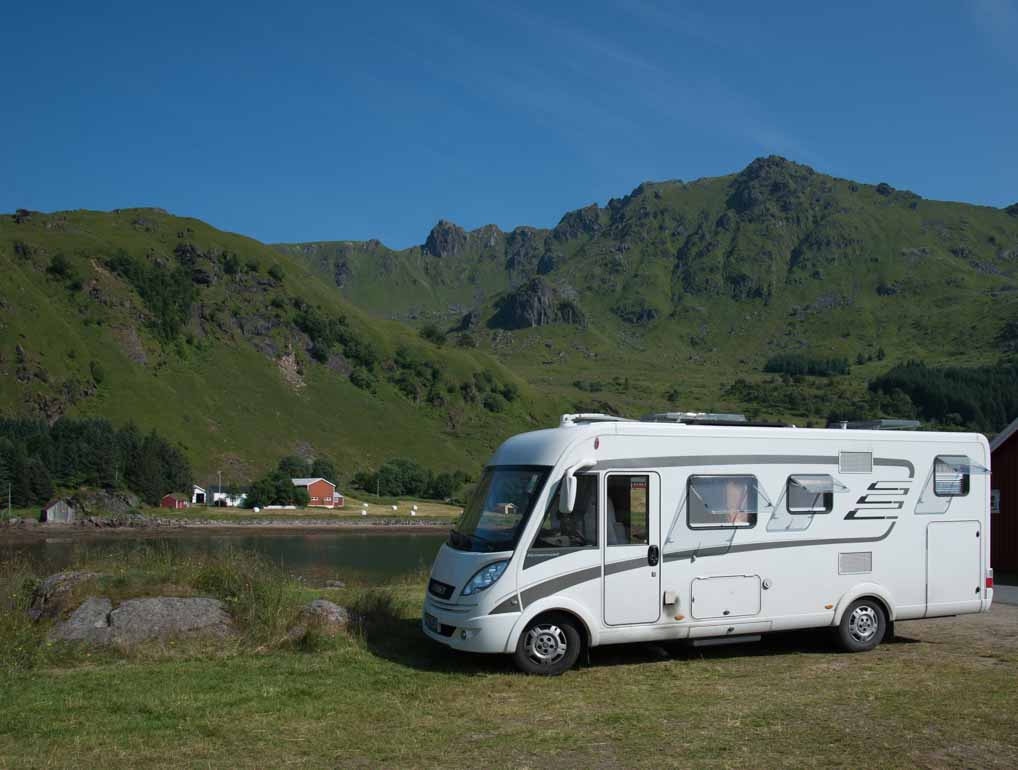 It was a mere 12 mile drive along the south coast of Flakstadoya Island. The sun was high in a cloudless sky and the views were again spectacular. I queued up at reception behind a man who was essentially trying to blackmail the campsite owner into giving him a discount by threatening a bad review on the internet. The owner apologised for the fact that the electricity had cut out during his stay and that the showers were not to his liking and offered to refund him for both, but that wasn't good enough. In the end the owner gave in. The not very seemly side of review websites!
The campsite seems perfectly nice. It is well located on a tidal inlet on a fjord, surrounded by mountains. At 200 NOK (€21.50) plus 50 NOK for electricity the price is very reasonable. We have found ourselves a little spot on the edge of the fjord and I have spent the day in the sun relaxing. Sarah has taken Mabel for a walk in the hills and the plan is we will go hill walking together tomorrow.
Saying in my blog two days ago how few problems we've had seems to have put the kiss of death on Basil. Yesterday we found that a small plastic tray under one of the seats had cracked and we had to do a temporary fix because it is part of what Sarah sits on for meals! Today the fridge seems to have stopped working on gas. I had read that using LPG refilled up from garages can causes problems with gas burners on fridges and this may be the problem. If so it just needs a clean, but we will have to find a Dometic agent to sort it out. It may cramp our wildcamping for a while, because our solar panel is not powerful enough to run the amp hungry fridge and freezer.