Yesterday was a bit of a non event. The sun shone most of the day, so we were found either sitting in our outside chairs catching a few rays or having a walk on the beach.
Melek is a little off his food and we are not sure whether it is because of the new cheapest we good find dog food, which wouldn't normally stop the little gut bucket, or because he has been filling his little tummy on the beach.
When we are wandering along the shoreline both dogs like to sniff all the detritus at the tide line. Melek takes this to a whole new extreme where he actually gets his nose into accumulated line of seaweed, shells and who knows what. When he temporarily comes up for air he normally has sand and various other items stuck to his nose. So we are not sure whether he is finding horrible things to eat or not.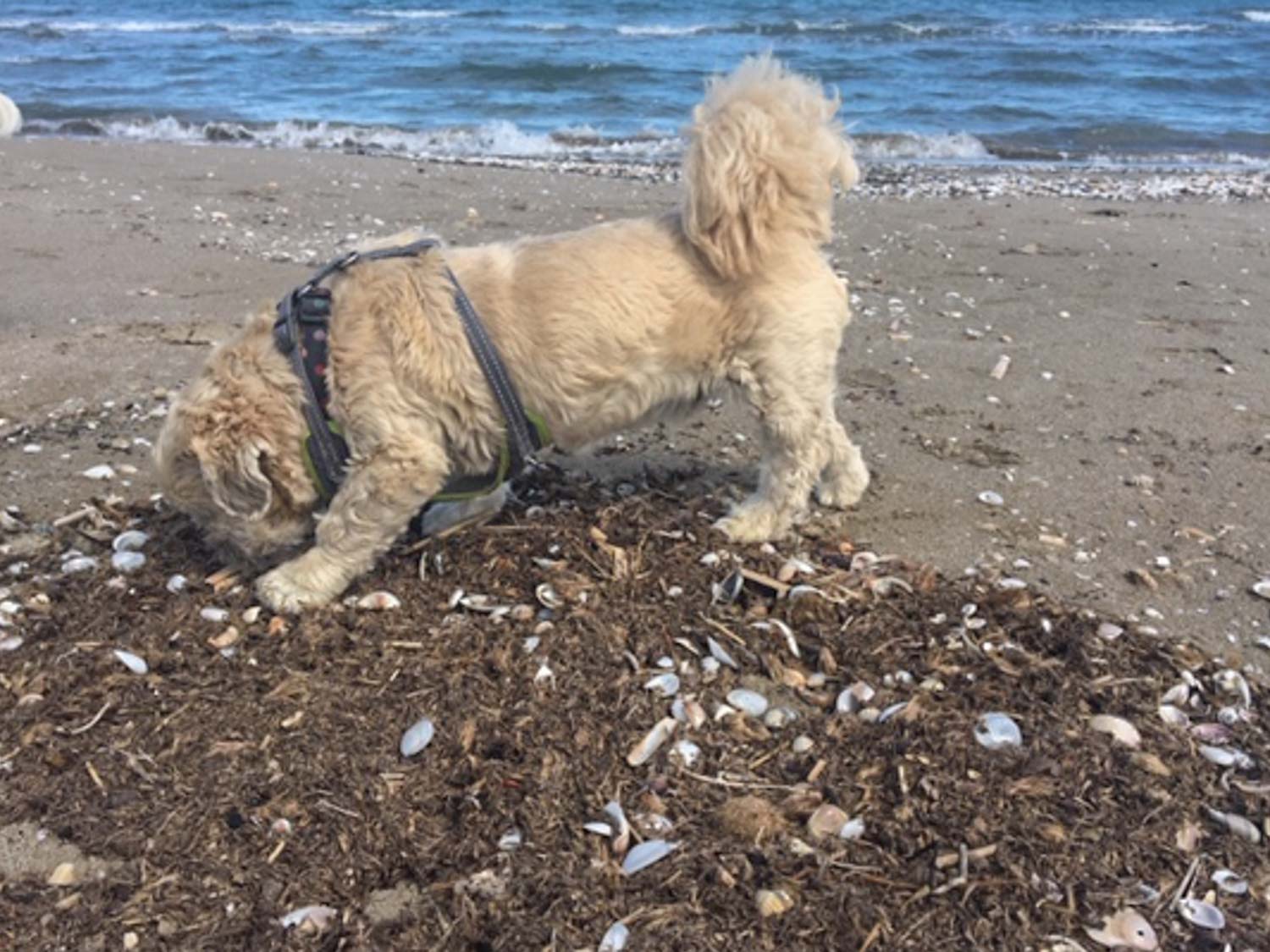 Today was Sarah's birthday, so I got up at the crack of dawn to take the dogs out and then present her with her presents and tea in bed. Her main present from home was a book of crochet patterns for various dog species together with the required wool. Sarah has become a bit of a dab hand at crochet since she retired, already making various animals, so different dog species were an obvious next step. The book includes patterns for a Springer Spaniel and a Shih Tsu, so Melek and Mabel will be happy.
I had struggled in Italy to find a birthday card but eventually found just a handful in a large toy shop. Presumably only children, rather than adults, receive such cards. The result was a card which inside said, in Italian, "Best Wishes to my Little Princess". Most appropriate I thought!
After breakfast we travelled to the port of Bari to catch our ferry to Igoumenitsa in Greece. We first inevitably stopped off at our favourite supermarket to fill up with last minute Italian goodies such as parmesan and wine. After that we completed the journey and parked up in a car park near Bari's old town. Since it is Sarah's birthday she was entitled to decline my invitation to visit the Basilica of St. Nicola. I, however, was not going to pass up the chance to see the tomb of the man who having discovered his three children had been cut into small pieces by a butcher, contrived to put them back together again! If that's not worth being canonised I don't know what is.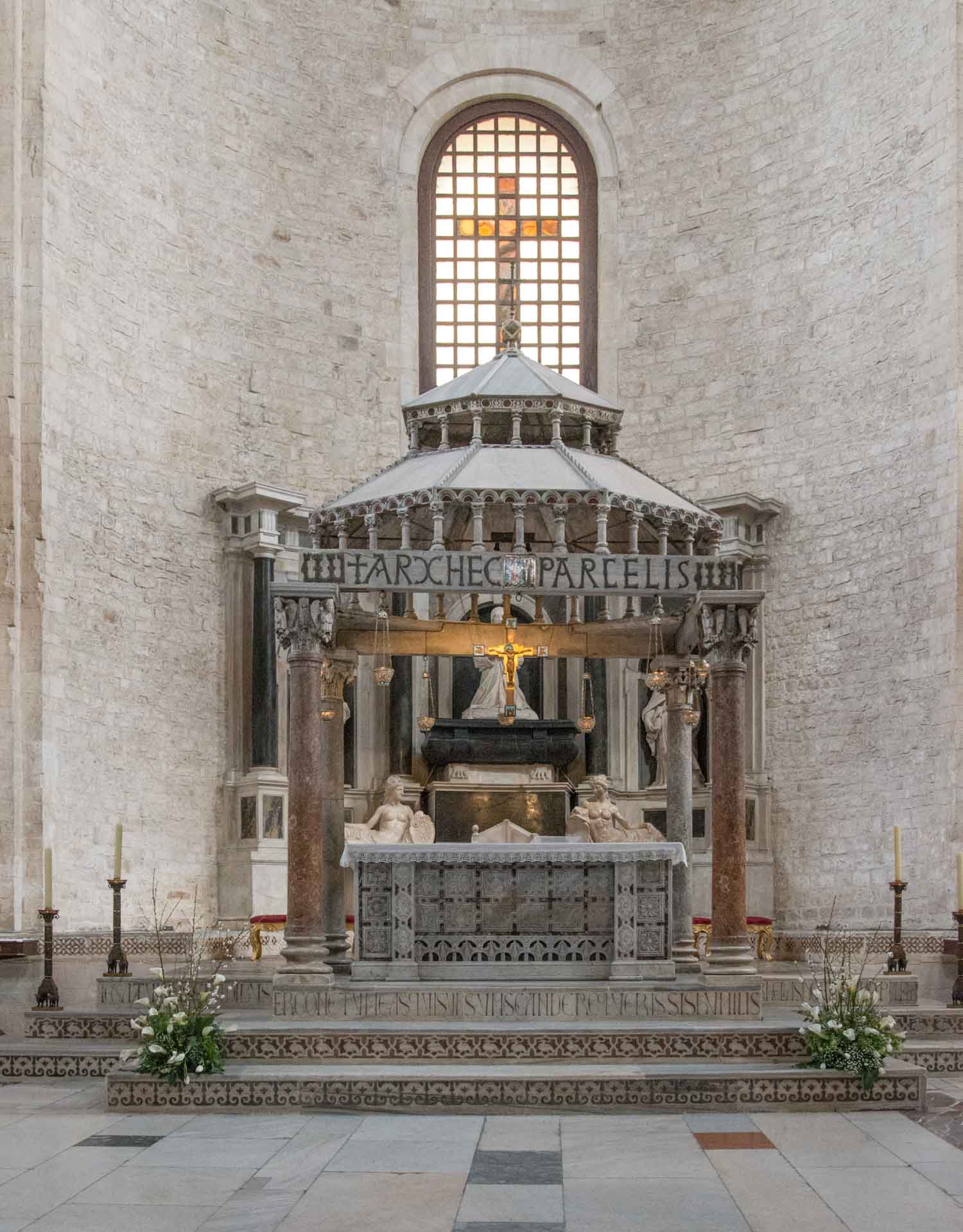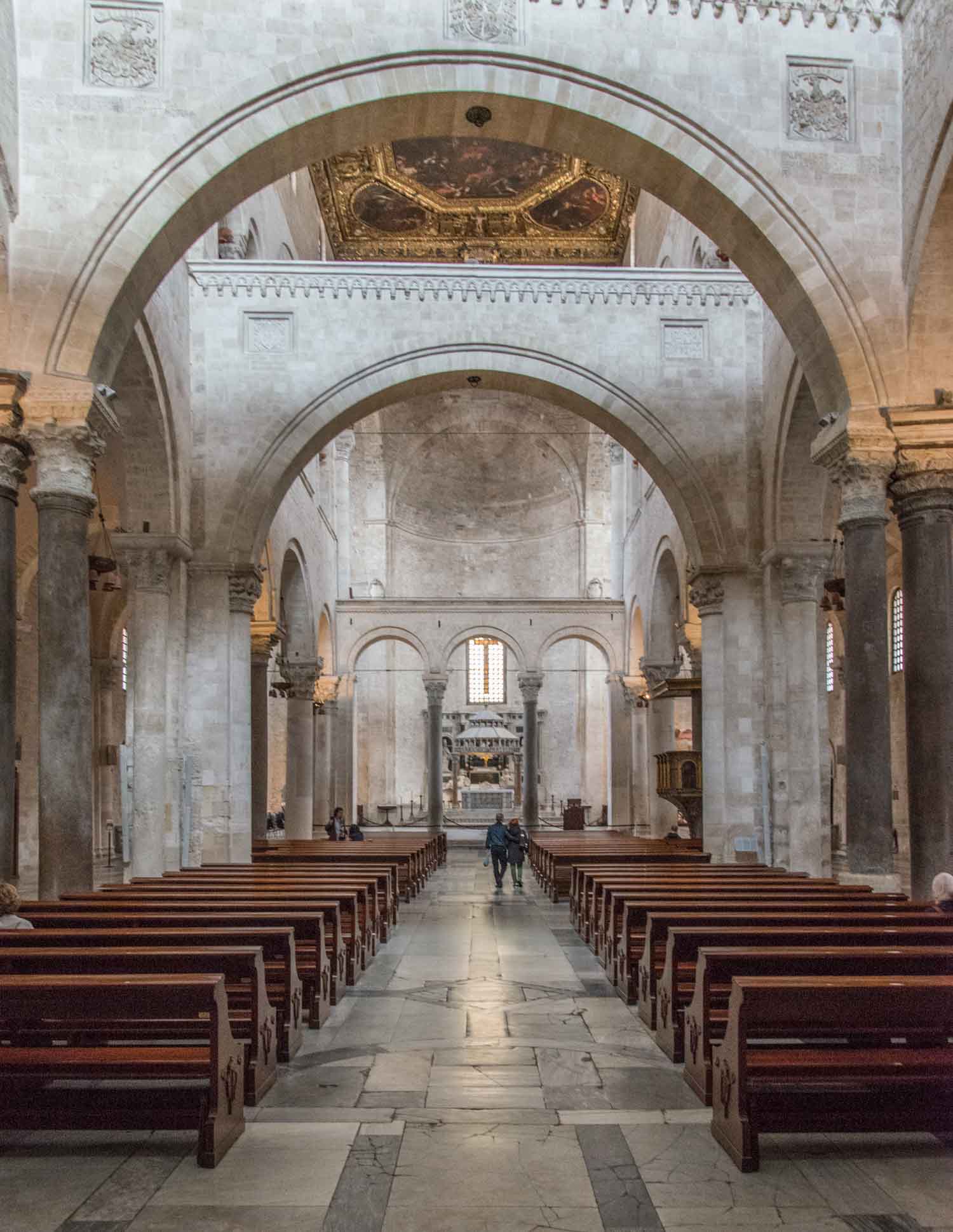 Bari's old town, unlike the huge surrounding sprawling city, is an attractive warren of old streets including a castle, St. Nicola's Basilica and a Cathedral. The Basilica is the star attraction, being an outstanding Romanesque design which inspired many of the surrounding cathedrals, like Trani which we visited two years ago. I didn't actually go to see the great man's tomb because as I went down into the vaults under the church I could see there was a service going on, in Latin. Everyone was looking very formal, all the women with their heads covered, and so I though my shorts and t-shirt might look a little incongruous.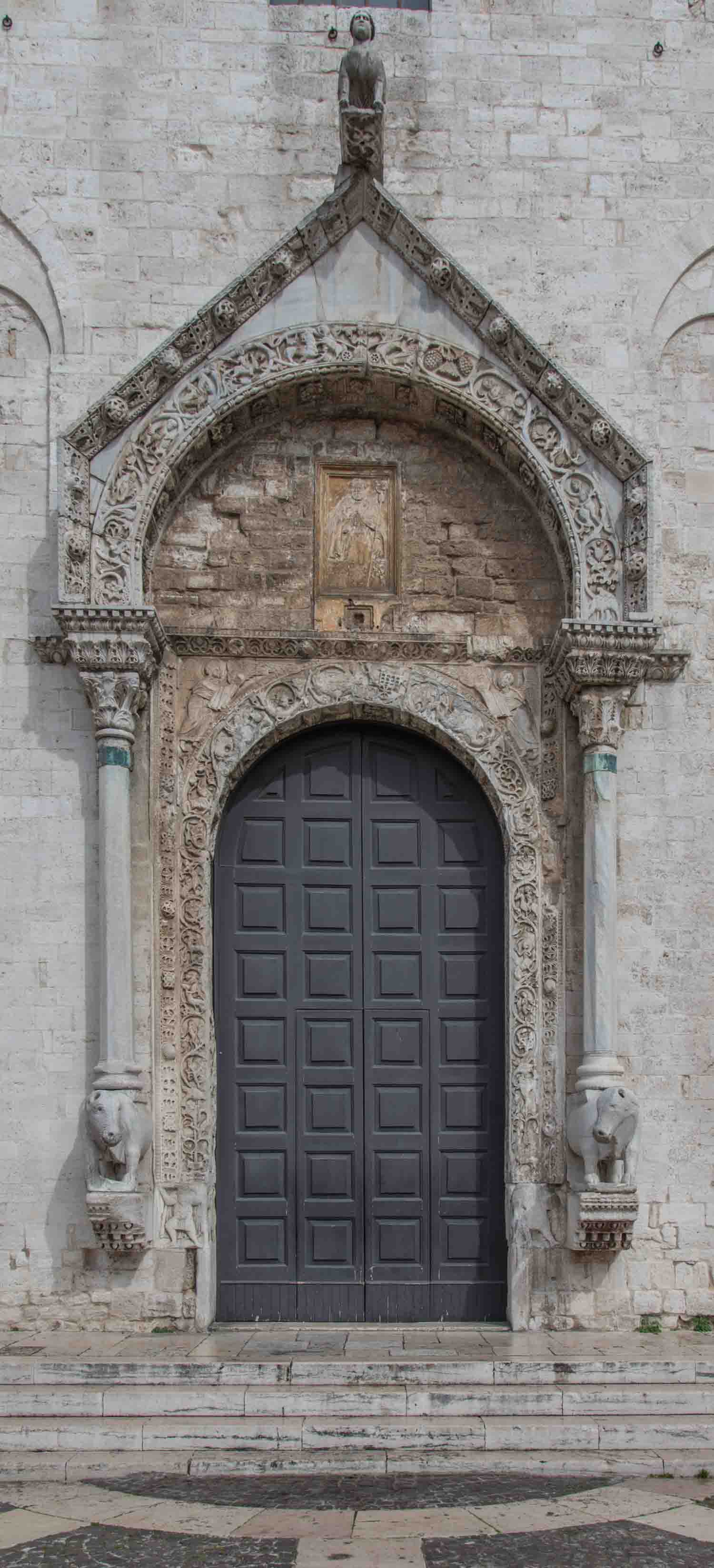 The Cathedral looked rather plain on the outside and was closed for some reason, so I just wandered the streets back to Basil.
Our ferry is supposed to sail at 19.30 and after waiting a short while in a car park near the ship, we were let on at 5pm. We are parked on one side of an open deck. There is a closed deck below us. On the walls are 240v sockets which all the motorhomes and caravans can plug into. We are therefore now sitting on the car deck as lorries are skilfully manoeuvred next to us in reverse. I'm glad the both the deck hands and the lorry drivers are skilled because it would not take much of a mistake for Basil to have a large dent in his side.
Tomorrow we disembark in Greece at 6 am Greek time (5 am Italian time). I think we will just park up on the quayside and finish off our night's sleep if we can before we head off for our first Greek destination.