We've decided that Camping Desini Beach is one of the most idyllic spots in which we have ever stayed, at least at this time of year. I suspect that in a month or two there will be no room to moveon either the campsite or the beach and the tranquil nature of the bay, with the resident fisherman chugging his way to sea a few times a day, will have disappeared for the summer season.
There is some evidence for this. We have a met an English couple who have come to this site for the last 19 years!! They told us that by the end of May all of the main spaces are filled with an international group who reserve the same spots every year. Basil is apparently in a German couples' pitch.
It is so idyllic there is a temptation to do nothing but sit, stare out into the bay and listen to the gentle gurgle of the water. But that will not do, at least not today. Sarah had our washing to do, which for some reason took the machines more than two hours to complete this morning and we decided to walk to the nearest sizeable habitation – two cats, a donkey and a stray dog – to pick up a few supplies and, if we could locate one, have lunch in a taverna.
The roads leading out of this little backwater, as you can imagine, are pretty quiet, so walking on them with the dogs is fairly relaxing. We had a short, sharp climb before we descended to another, adjacent inlet a couple of miles away.
This little inlet, on which the main settlement is Nydri, is altogether more commercial than Desimi Beach. There are hundreds of yachts mored along the shore many of them belonging to Sail Ionian, a yacht charter company where Europeans charter boats to spend the summer sailing in this lovely area.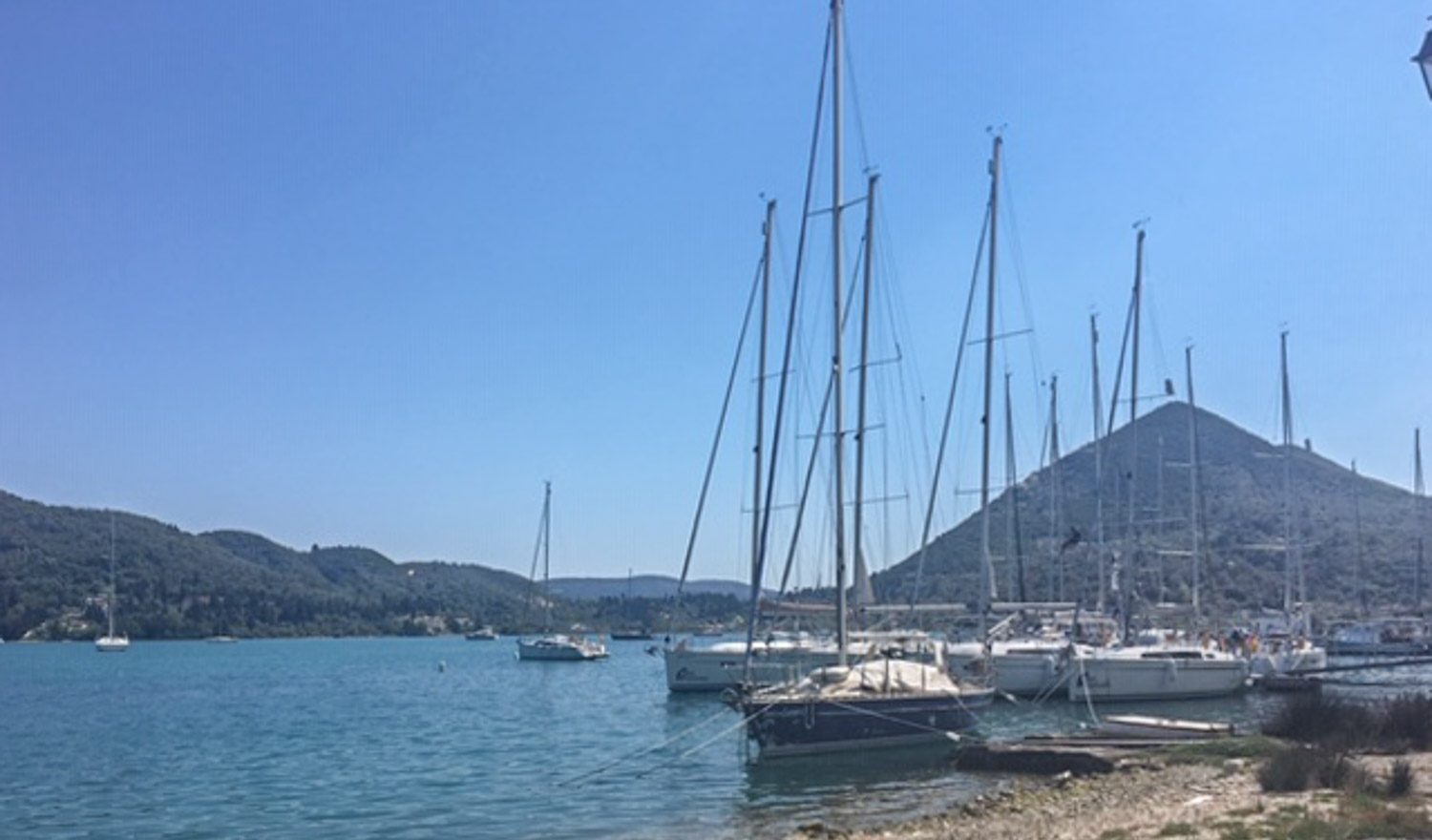 Our intention was not to go as far as Nydri which is more than four miles away, but to explore the first little settlement on the shore, called Vlicho. First we headed for what Google Maps described as a supermarket, but which turned out to be a small, dark, dusty room with a few random supplies, which reminded me of grocers' shop in my childhood. We picked up some fruit and then headed to look for a taverna.
Unfortunately all of them seemed to be closed until we walked past a small restaurant where an elderly lady was vacuuming. We walked past, thinking it too was closed, and came across a bakery. Sarah suggested just getting something from the bakery but I said I would just pop back and see if the taverna was open. I stuck my head round the door and the lady, who it transpired spoke virtually no English, seemed to understand what I was asking and indicated that her restaurant was indeed open for business.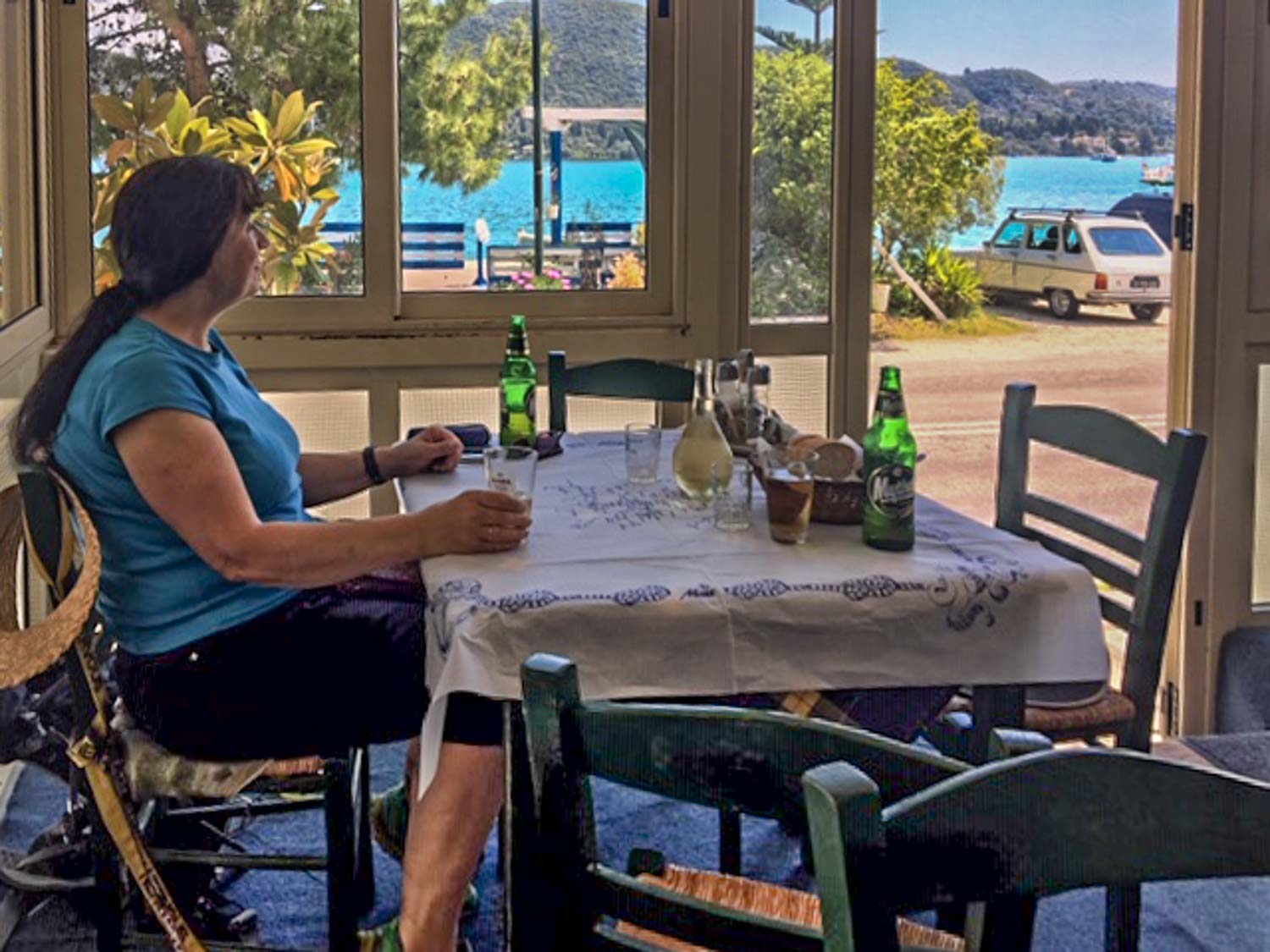 Once we and the dogs were seated I asked for the menu. She beckoned me over to the kitchen and opened two pots – one containing what looked like beef stew and the other rice. Since Sarah is a pescetarian my heart sank. Scrambling for Google translate I typed out that Sarah didn't eat any meat. No problem. She reached into her refrigerator and produced a plastic container full of stewed artichokes, beans and some unidentifiable greens.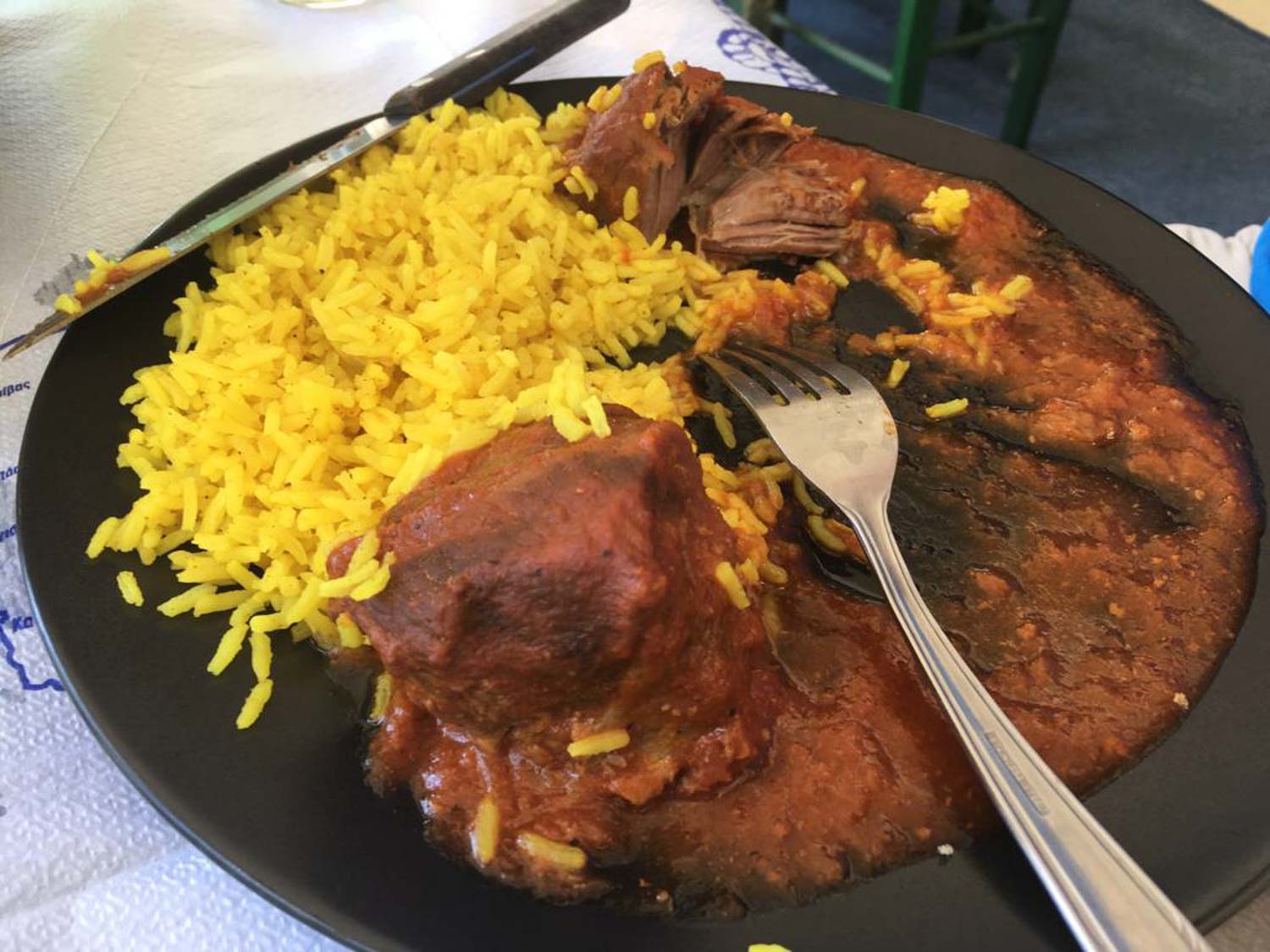 We told her that in which we would order everything on her considerable menu and it duly arrived with bread and some palatable white wine. To be fair my beef stew was excellent – I think Sarah's was a little on the bland side.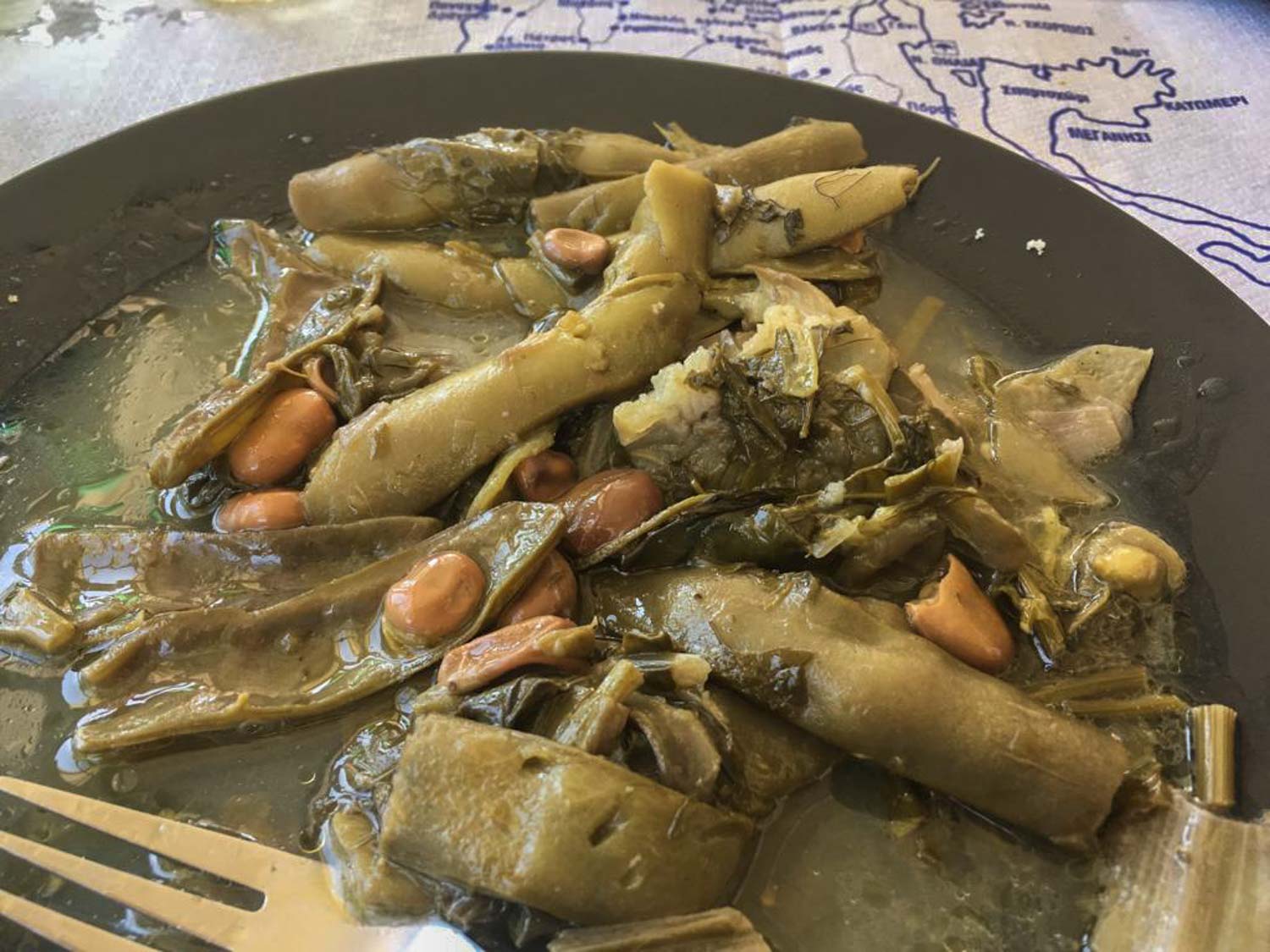 After we had finished our first course the lady produced a sophisticated desert of apple sprinkled with cinnamon and two unpeeled oranges. Having polished off the delicious oranges we paid a tiny bill and departed.
Sarah was still hankering for something from the baker so I purchased what turned out to be two huge slices of baklava and we sat eating it, with honey literally dripping from our fingers, looking over the harbour.
Our return journey was not quite as smooth as our outward one. We thought we had seen a track which would shortcut the road. Initially we followed the water's edge, but when the track petered out we were forced to wade, me carrying Melek, through deep swathes of wild flowers dripping with bees. We once again found a track only to be greeted by a creek across which someone had built a causeway of loose stones. Unfortunately while I was crossing one of the stones gave way under my not inconsiderable weight and my heavy rucksack pulled me over backwards and left me tharwalted*.
No damage done, except to my pride, I untangled myself from my rucksack and struggled to my feet, my clothes dotted with stinky mud. Nevertheless the essentially supplies I had carried home mean we will be stay here another two or three days if we wish.
* Tharwalted is a Lincolnshire dialect word which describes a sheep that has become stranded on its back – As in "that sheep's tharwalted"!