Last night Team Basil skipped a few paces across to our nearest restaurant for Sarah's belated birthday dinner. We renewed our acquaintance with such old favourites as Spinach Pie and deep fried squid and a new aubergine and cheese dish we hadn't tried before. In all it was a pleasant enough meal but not one which will linger long in the memory.
Our overnight spot, although convenient, turned out to be a fairly noisy place to get a good night's sleep, being used by coaches for turning round until well after midnight. Ioannina is also a big university town and being so close to the heart of things we heard strains of student revellery until the early hours.
The €10 overnight deal meant we had to be out of the car park by 10 am, which was, of course, no problem for Team Basil! We had decided today to head into the part of Greece known as Zagori: a mountainous and isolated part of the country which is supposed to have a unique character. In particular we wished to visit the Vikos Gorge, which claims to be the biggest gorge in the world with one small qualification: it is the world's deepest gorge relative to its width. 900 metres deep but only one kilometre from rim to rim.
As we headed into the mountains our attention was caught by a huge bronze statue set high on the roadside and we pulled over for a look. It is a very striking artwork entitled Zagori Woman. It is apparently a tribute to the Zagori Women who took great risks in this rugged region during the Greco-Italian war of 1940-41, when they carried enormous bags of supplies to the soldiers even during the harsh winter months. The statue is 6 metres high and weighs 1.7 tonnes. In fact we knew none of this except it was called Zagori Woman because we don't read Greek, but everything is these days available on t'interweb.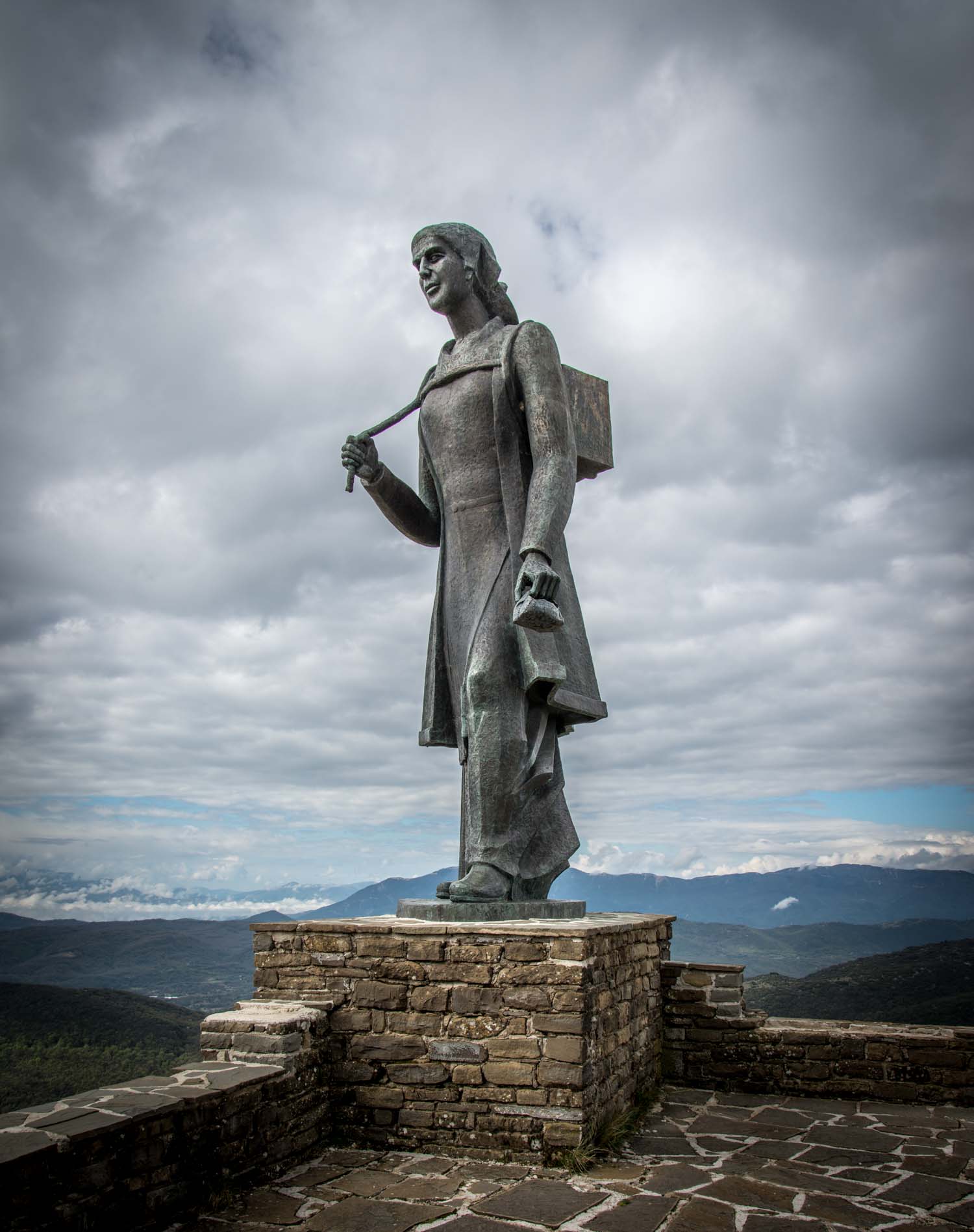 While we were looking round the statue we both noted that this would make an ideal camping stop – quiet, isolated and with stupendous views of the mountains.
We carried on to the mountain village of Monodhendhri where some of the best views of the Vikos Gorge can be had. I was glad we didn't meet any other vehicles in the last two miles, but other than that the roads were rather good. Basil was parked up in the small central village car park and we happily traipsed downhill to a sign we had passed on the road which said "Vitsa". Being typical Brits abroad this was clearly just a misspelling of Vista and so we set of down a steep, stony narrow track, cursing its difficulty. After about half a kilometre it slowly dawned on me that if the best views of the Vikos Gorge were to be had from Monodhendhri, tens of thousands of people surely could not walk down this tiny track. We turned around and huffed and puffed our way back up to the village. We subsequently realised as we drove away that the next village is called Vitsa and that was where the track was heading!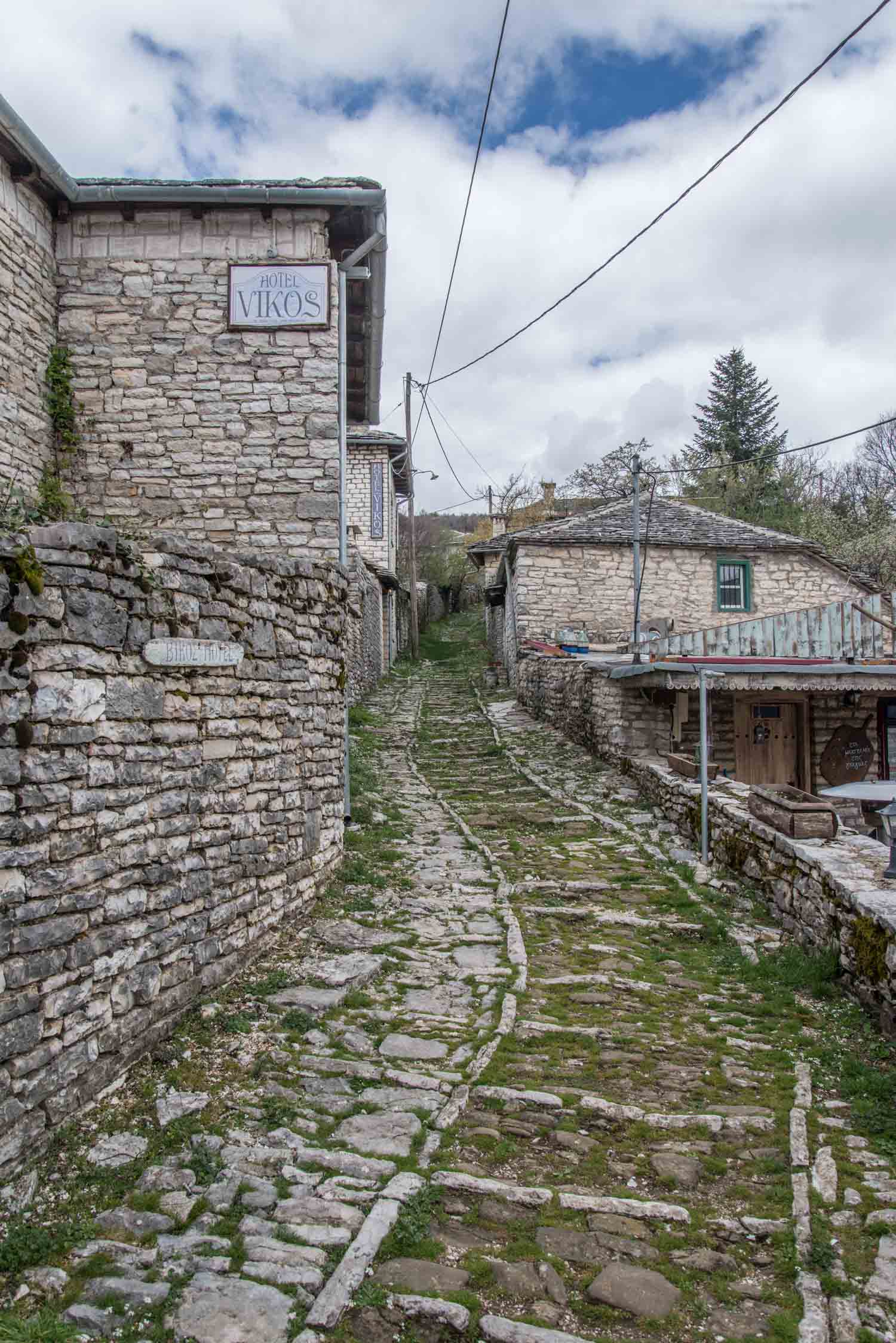 A little tired we located the correct track. In fact it was more like a paved motorway for walkers! This took us a kilometre down to an old monastery, with increasingly spectacular views of the Gorge as we progressed. I thought being a Saturday that the place might be packed out but fortunately there were not too many people. At the monastery a small rock platform had been constructed on the edge of the Gorge to give a perfect view and despite the weather being a little overcast it certainly was spectacular.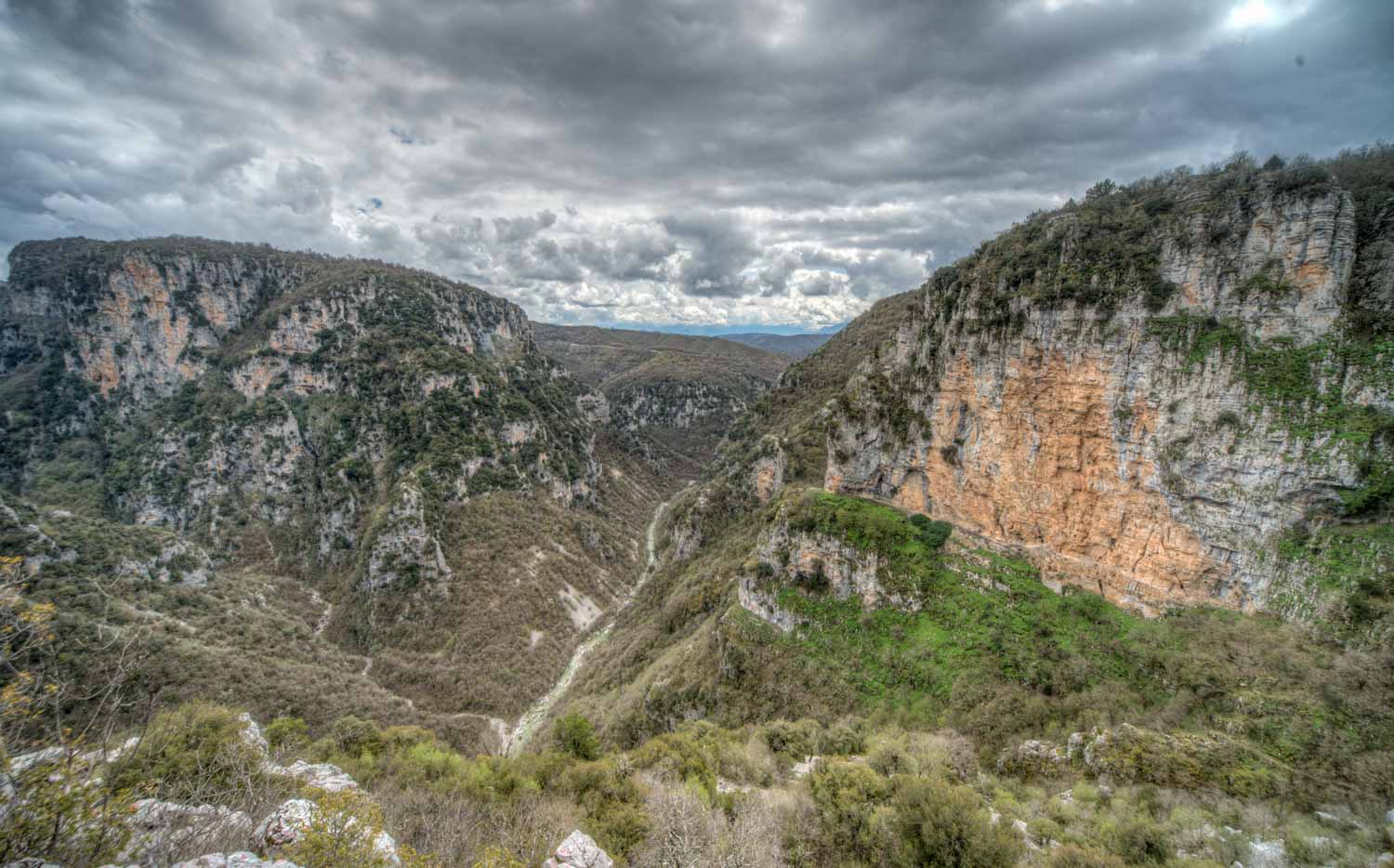 Sarah was not to be confined by the conventions of standing in the same spot as everyone else and so while I was taking photographs she climbed up behind the monastery and along a narrow track, where she tells me she got equally good views, but where she was also warned to not progress any further because the path became dangerously precipitous.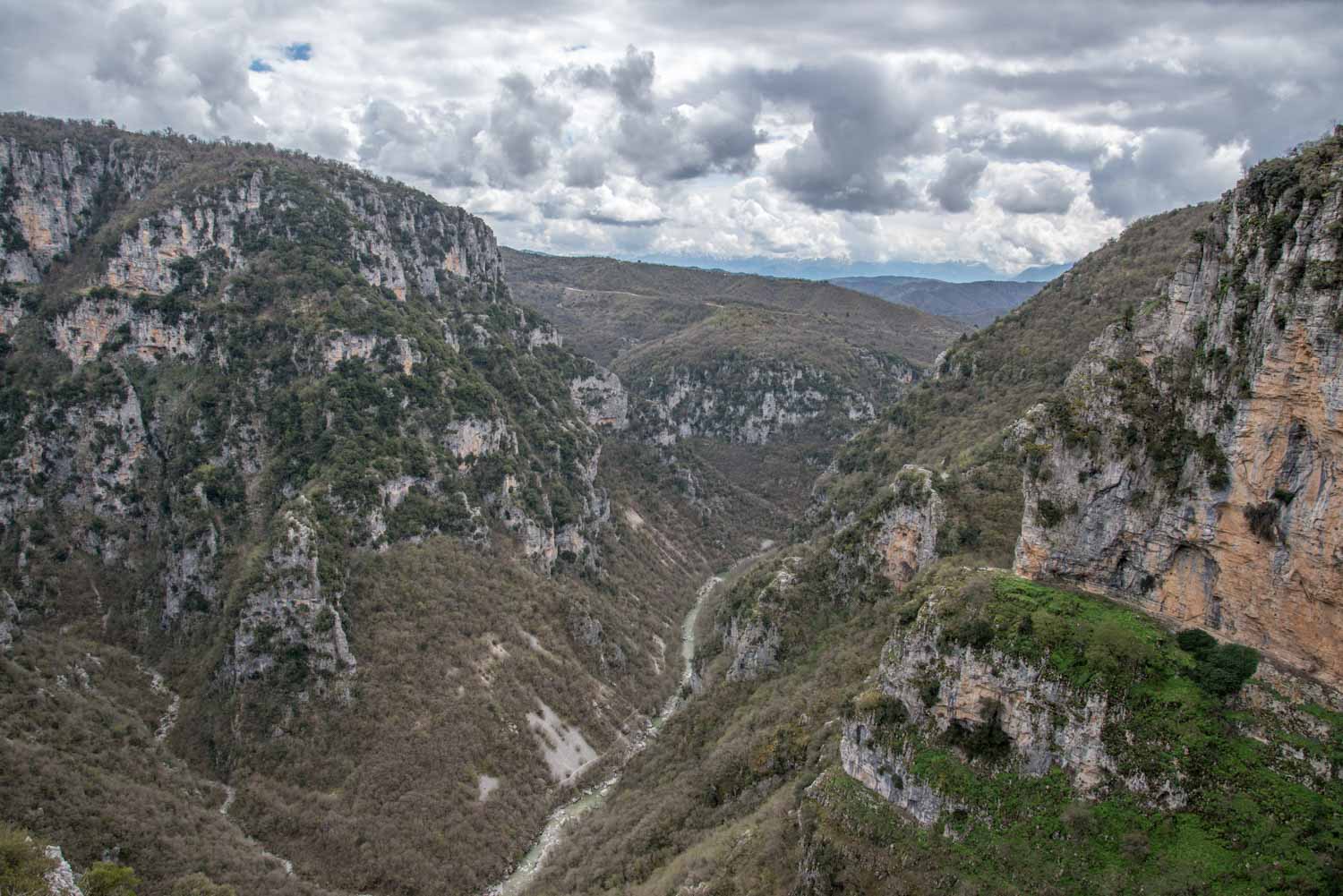 When we had finished at the Vikos Gorge it was time for a late lunch. We discussed travelling to a village deeper in the mountains, but because I had read the village had remained idyllic due to its inaccessibility to coaches, we decided that we have previously had enough adventures with Basil in Greece on unsuitable roads and decided not to push our luck.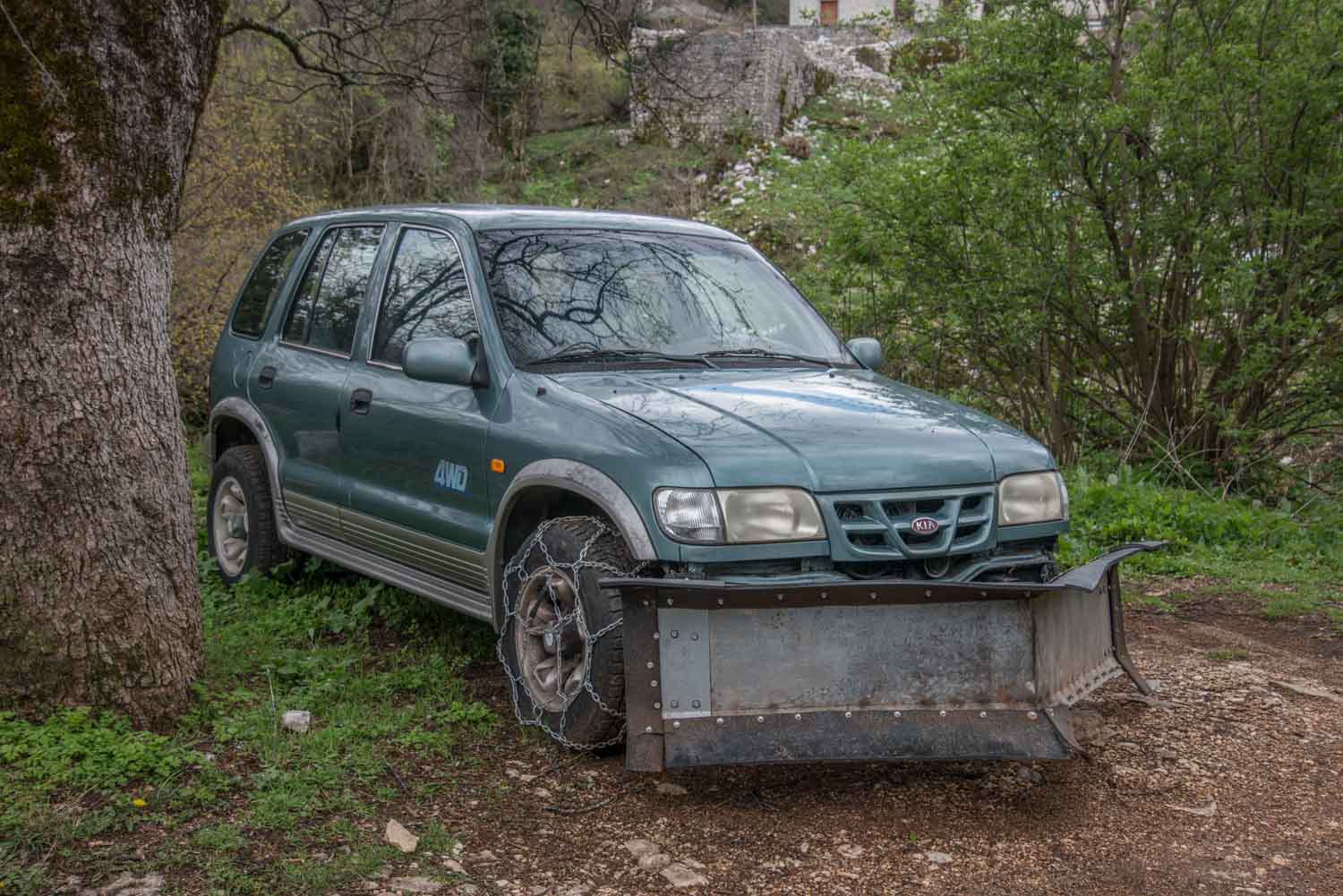 Basil pointed his nose downhill and back the way we came. In the mountains we have seen many small flocks of sheep attended by a shepherd and his dogs. The sheep dogs in Greece do not appear to be for herding sheep but are rather large and I suspect their prime purpose is protection of the flock. How someone manages to scratch a living herding 20 sheep in this day and age is anyone's guess.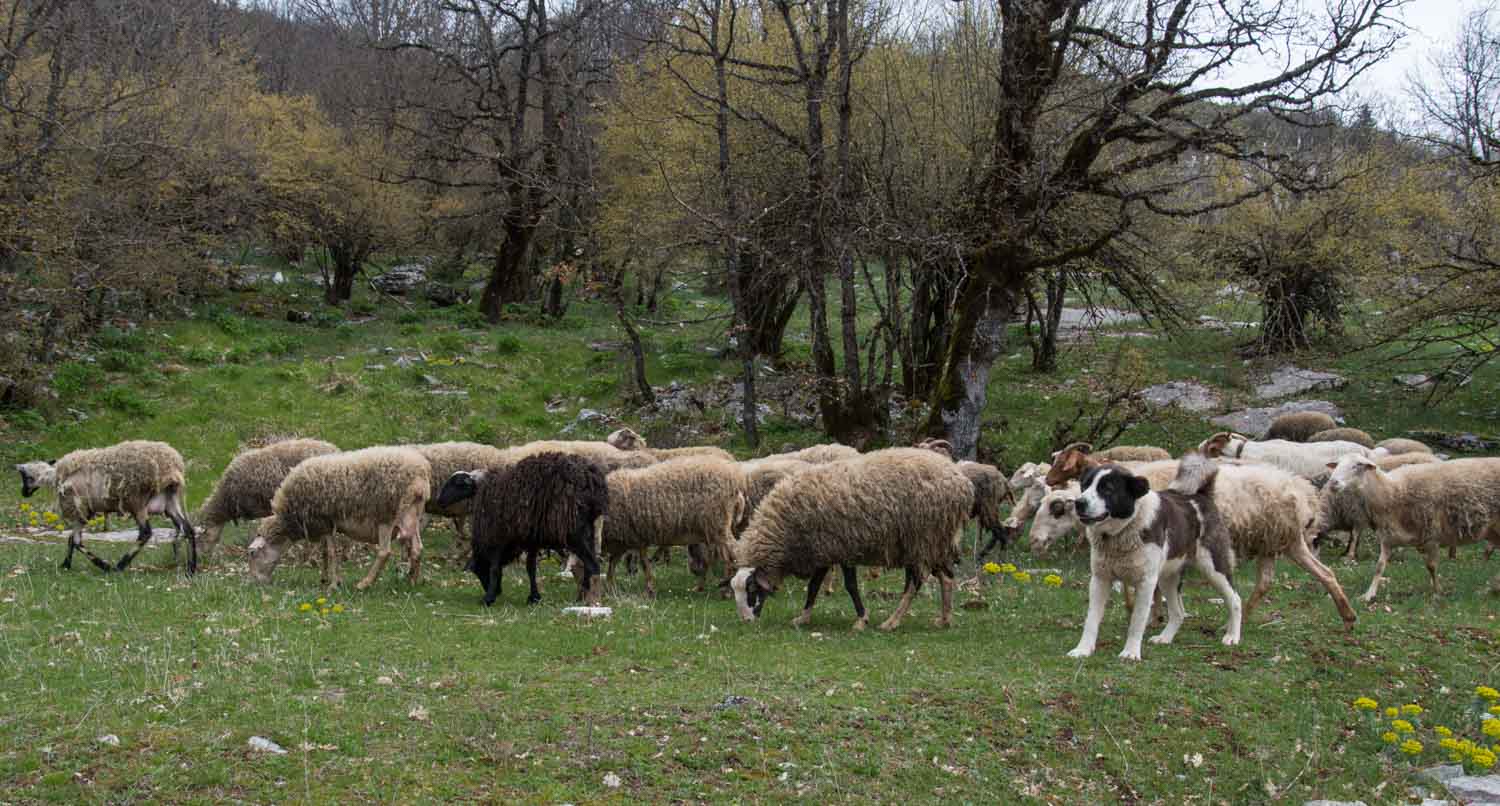 Finally we arrived back at the parking space next to the statue of the Zagori Woman (39.838329, 20.702873), where we have since gazed at the glorious views as they have slowly disappeared behind a veil of cloud and rain.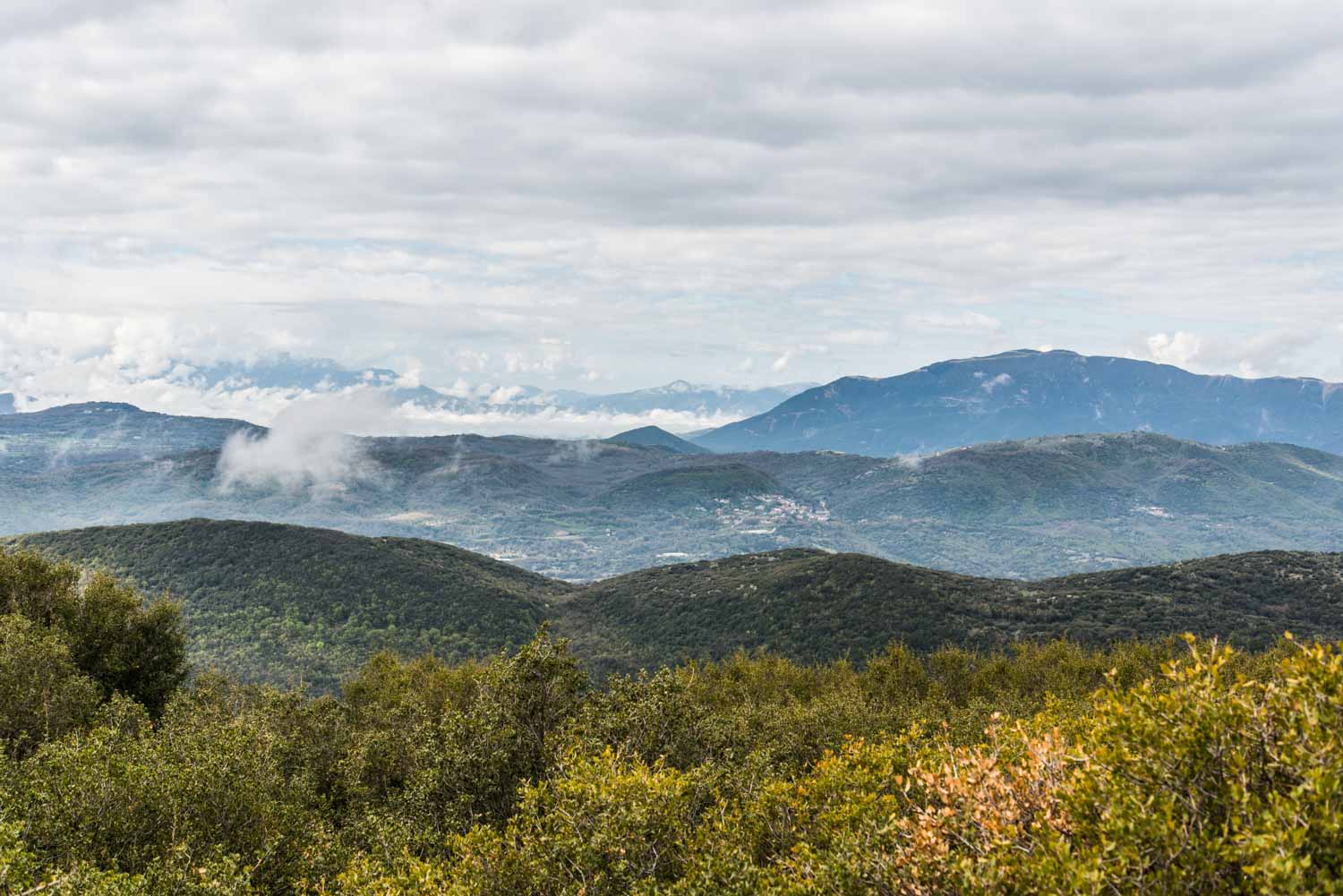 Our intention had been to head up to the mountain town of Metsovo tomorrow, but if the weather continues as it is, there will be little point because none of the mountains will be visible.