Basil hasn't moved today. We decided that after two days of very long drives, we would have a day to catch our breath. The little campsite we are on, although crowded, is friendly and our pitch is right next to the lake.
Last night I had a couple of weissbiers to celebrate being in Germany and we indulged in Pizza at the very good campsite restaurant. We finished the day sitting outside reading and admiring the views over Lake Chiemsee to the distant Alps.
Today we had a relaxed start and again were able to eat breakfast outside. We then a few kilometres in beautiful warm sunshine, part way round the lake. I think the full route is 72km, so we were only pricking the surface.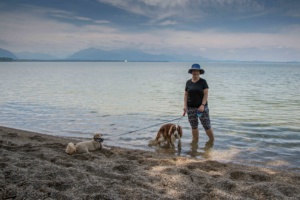 Chiemsee is very pretty, but quite touristy in a small scale sort of way. All the way round the lake adults were sunbathing on the shingle beaches and children splashing around in the shallow water's edge. In the distance there are sailing boats slowly moving across the lake with the still snow flecked Alps as a backdrop.There are even steamboat services connecting various parts of the lake.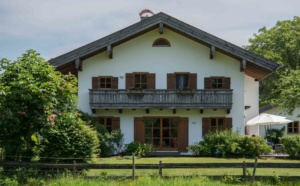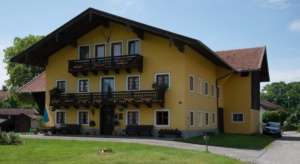 We had a lunch in a lakeside restaurant, with me pigging out on currywurst. I had to have a sausage before we leave Germany!
The day ended with a ferocious thunderstorm, with large hailstones bouncing off poor old Basil's roof.
Tomorrow we head for Slovenia, but the weather forecast for the mountains does not look good so we may be heading for Croatia and the Adriatic earlier than we thought.