After a short drive today we parked up in the Stellplatz in Bamburg (49.885218, 10.902953). It is 12 Euros a night, but it transpires this can only be paid in coins or a German debit card! Having neither, we set off, with trepidation, into the old town intent on returning with a pocketful of jangling euros.
I was totally unaware of Bamburg until I came across it in our Rough Guide a few days ago when we were planning our journey home. It is just about the only German city to have been spared destruction in the 30 years war and also the Second World War. The result is one of the best preserved medieval cities in Europe. It's old town is designated a World Heritage Site.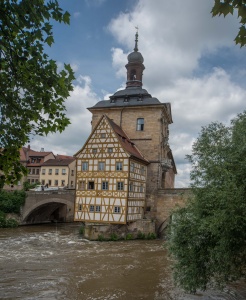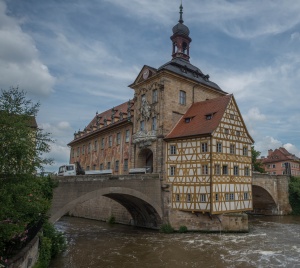 Bamburg live up to its billing. The centre looks as if it could have come out of a Grimm's fairly tale. It has impressive large buildings like a Cathedral and St. Michael's Monastery and Church, but it is the everyday houses which impress. The entire old town looks as if every house is several hundred years old and they probably are. Timber framed with render in between, each one tastefully painted. Bamburg is a seriously beautiful city and I recommend everyone to visit.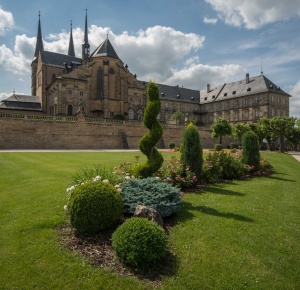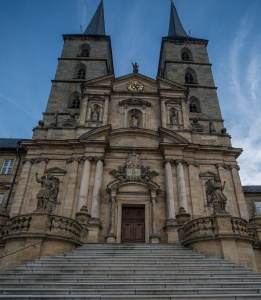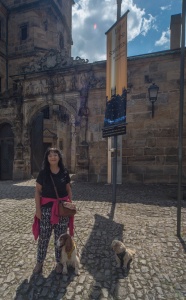 We did not just look round, we also sampled the famous Rauchbier (smoked beer). Bamburg is famous for its breweries, but it's iconic brew is Rauchbier. The barley is roasted over open flames which results in a smoky flavour. Sarah wasn't too keen on hers so I ended up with nearly a litre. It makes a nice change from everyday beers, but I'm not sure I will be taking a case home!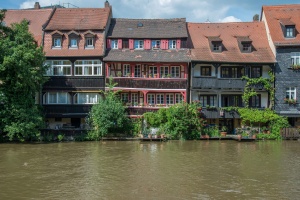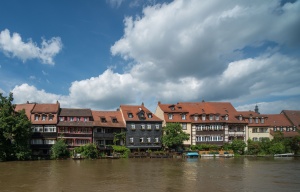 Finally we walked the mile or so back to the Stellplatz, with Melek collapsing every few yards, refusing to proceed, only for him to see another dog and come back to life. When we got back to Basil we found that we had not received a fine or had our wheel clamped and so, having acquired a pocketful of change during our parambulations, I spent a few minutes feeding coins and now we are parked up legally.