This blog covers the last two days. I didn't get time to write one yesterday.
Friday was mostly a driving day as we start the long journey home. We drove for nearly 5 hours to get from Bamburg to the pretty village of Kobern-Gondorf in the famous wine growing valley of the Mosel river. We parked up on Stellplatz (50.305892 7.460688). It' a fairly basic Stellplatz. It's advantages are being right next to the river, but it is noisy being close to a main road and a railway. The cost was 5 Euros plus 1 Euro for 80 litres of water.
Kobern-Gondorf looked unprepossessing from the main road and so when we headed in for a wander I didn't take my camera. Big mistake. Behind its plain facade it is a picture perfect German village with a castle and timber framed houses all beautifully maintained. This picture was taken with my phone, but it gives and idea.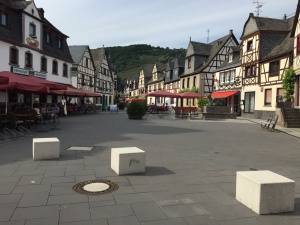 We had a meal and a bottle of the local wine in the village and finished the evening watching France v Romania in Euro 2016 on our now within range satellite dish.
Today we just drove down the Mosel valley. This is a slow process as it meanders spectacularly. Everywhere there are vines but also pretty towns and villages and the odd romantic castle perched high above the valley.
After a while we found a fantastic Stellplatz at a village called Reil (50.026173 7.114730). It is 7 Euros a night, extra for electricity. It is set on a very large grassy area direct next to the river and although there a quite a few vans on the field each of us has an enormous pitch.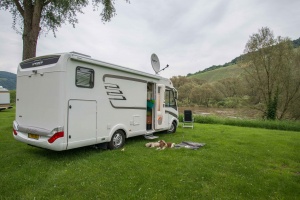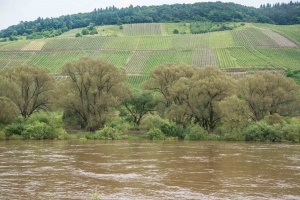 We will finish the evening with a walk into the village followed by me making a Ratatouille and watching England v Russia.