We woke up yesterday to find Basil had developed a technical fault – his batteries will charge from the mains but not from the engine alternator or the solar panel. Since the holiday is nearly over we decided to wait until we get home to diagnose the problem, but it meant we needed campsites rather than aires for the last two nights so that we can connect to the mains.
We drove over 300 miles from the Mosel valley to Camping Saint Louis (50.837569 1.975189) about 14 miles from Calais. Purely by accident this clean little site turns out to be excellent for British dog owners. When we arrived the receptionist, upon hearing that we had an appointment with a vet in St. Omer, half and hour away, offered to book us in to a local vet just 2km from the site. She also rang the vet in St. Omer and cancelled our appointment.
So this morning after breakfast we drove the 2km to a great modern vet, where both dogs received their worming treatment for their Pet Passports, from an English speaking vet. The receptionist also spoke some English. Better still they give a 50% discount for a second dog, so it cost 60 Euros in total, which from what I have read is fairly cheap.
Having been to the vet we headed for an aide near the beach at Wissant. Unfortunately when we arrived it was pouring down, so we had an early lunch and waited for a break in the weather. Luckily we managed to let the dogs have a good run round on the beach for a couple of hours in grey but mostly dry conditions. We were disappointed to see that Wissant bans dogs from their promenade and the beach, apparently all year. However since the beach was full of dogs, we ignored the ban, but I suspect it is enforced in summer.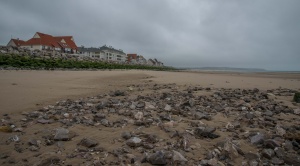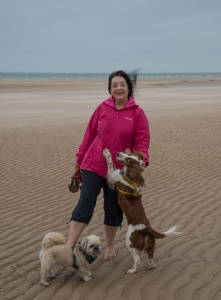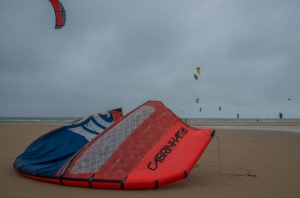 This really brings our holiday to an end. We have a tunnel crossing booked for 12.20 pm tomorrow and then a four hour drive home. In summary we probably bit off a bit more that we should by driving all the way to Croatia on an 18 day holiday, but we've enjoyed it and seen several places we will want to revisit.