Our idyll next to Lake Kerkini became less benign once darkness fell. The frog chorus became a cacophony, but far worse were the insects. Luckily Basil's every orifice has a mosquito net, but when I stupidly put a head torch on to take the dogs for their final walk I was enveloped by more insects than I have ever seen in my life. In my hair, eyes, nose and mouth until I quickly realised switching off the torch might help, which it did, a bit! In the few seconds that I had Basil's door open 40 or more six legged creatures had made the dash for our interior and Sarah and I then had to spend the next quarter of an hour dispatching them.
In the morning we said a sad goodbye to what had been one of our most beautiful ever stops and pointed Basil northwards again. Before long we were at the Bulgarian border, which in 2017, at the height of the middle east refugee crisis, we had seen queues of lorries several miles long. No delays for us or anyone else today. A Bulgarian border official did have the temerity to ask to look inside Basil but he hadn't set foot inside before Mabel gave one bark and the man beat a hasty retreat and waved us through.
Bulgaria's villages looked as run down as we remembered them from two years ago in contrast to the beautiful scenery, in particular the still snow clad mountains which are such a popular ski destination in the winter. Basil's tank was filled with Diesel at €1.13 (£0.98) a litre!
Our destination today was Sofia, Bulgaria's capital. As we navigated the outskirts the drab, crumbling blocks of flats were a clear reminder of its recent past behind the iron curtain. We found our overnight halt in a fairly run down corner of the city at "Ivan's" (42.743182, 23.285633). It is just what is needed for a capital city: a secure parking area with basic facilities, most importantly somewhere to empty the toilet. Ivan has carved this camper stop from what was essentially his back garden, but since there are eight of us crammed in tonight, at €10 per vehicle, it's a nice little earner. Best still it is only a five minute or so walk from the nearest metro station, which in turn is less than 15 minutes from the centre by metro.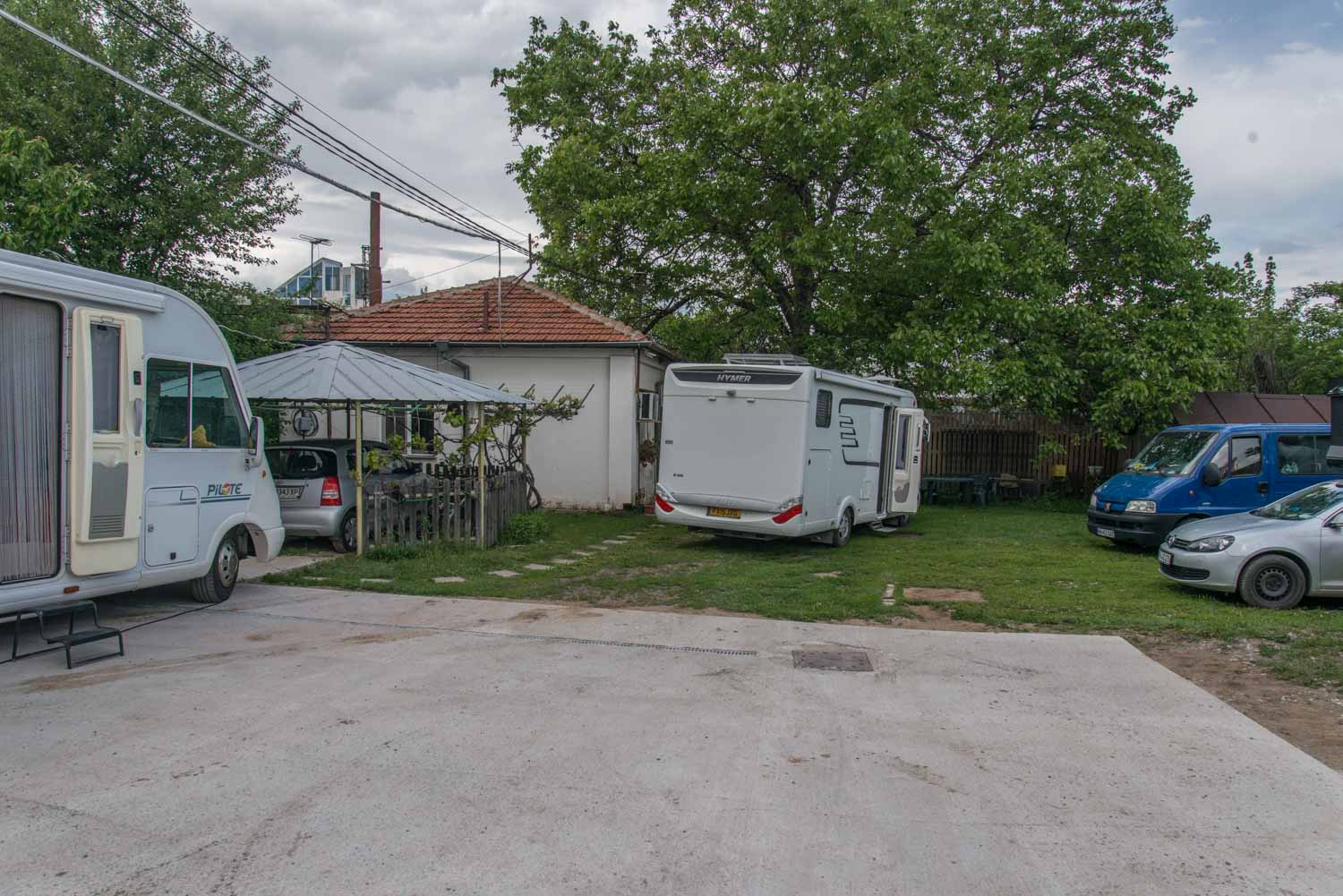 Having settled in Sarah and I went for a long walk to firstly orient ourselves and secondly try to get some Bulgarian Lev, which we did. The whole area is less than salubrious, with a burnt out house and a generally run down air. I'm glad we're safely ensconced at Ivan's.
Tomorrow the idea is to explore the centre of Sofia, initially by using a "free tour". So there may or may not be a blog tomorrow, depending on how much we enjoy Sofia.