We ended up with quite a diverse collection of campers at our "isolated" spot in the national park. There were two older couples, including us, in camper vans; at least three others in converted panel vans, plus a walker one of them had picked up during the day and who slept on a bench at the observatory; and finally a very adventurous couple, with a nine month old baby, on cycles and wildcamping in a tent! It takes quite some courage, or naivety, I would have thought, to set off on holiday with a nine month old on two bikes and tent, intending to camp on the roadside!
Unfortunately our Thessaloniki adventure, which I had been looking forward to, was called off when, having surveyed all the possible parking places, each had at least one instance of a reviewer reporting a break in to or vandalism to their van. Thessaloniki looks a fascinating place and maybe warrants a long weekend by plane at some point.
As an alternative we set SatNav to take us, via LIDL naturally, to a widcamping spot on the Sithonia Penisular. Most of the Sithonia Peninsular belonged to various monasteries from Mount Athos until their land was confiscated by the government in 1927 to use for settlement of Greeks expelled from Turkey. The result is the peninsular is sparsely populated with few true villages and none of any age. The dense pine forest, spectacularly azure sea and sandy beaches still make it an attraction.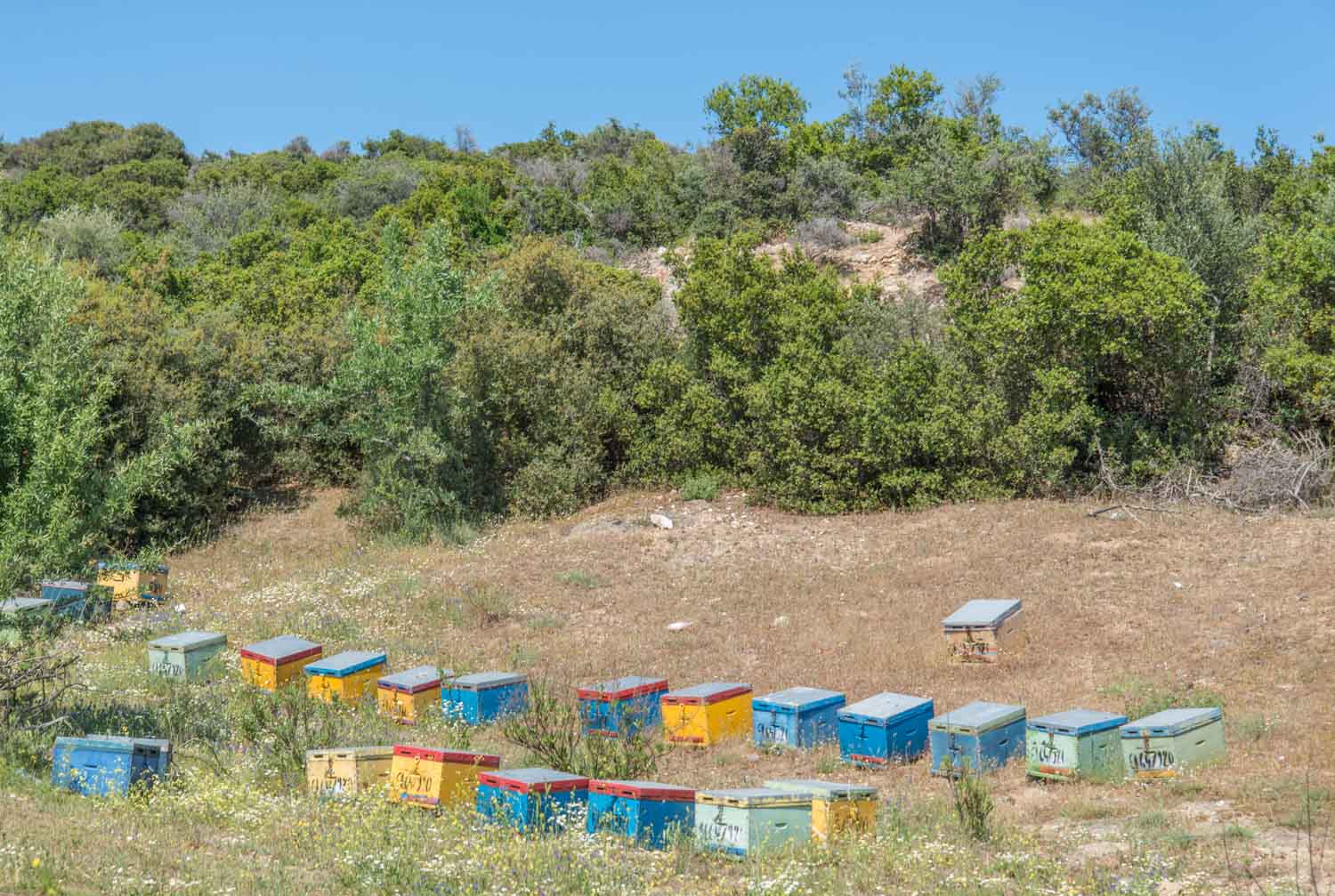 The proposed wildcamping spot turned out to be unreachable even for scratched and battered Basil. The final section of road was so overgrown that Basil would have lost most of his paint in any attempt to navigate it. This is one area where narrower panel van conversions have a distinct advantage.
We instead headed for Melissa Camping, an ACSI site further down the peninsular (40.045118, 23.983533 €18 with ACSI ). It seems well kept and is full of other Europeans, but no Brits. My favourite resident so far is a very overweight elderly German, whose pate is bald but who still clings to very long hair at the sides and the back and who keeps changing from a ludicrous pair of speedos to a fetching pair of lederhosen!
The campsite is not actually on the beach, but there is a lovely, long, sandy beach just across a very quiet road. We've been for a walk along it and unfortunately just behind the beach sheep and goats have been grazing leaving their droppings everywhere. The dogs love to eat anything smelly and disgusting and this is a perfect opportunity for them to snaffle sheep poo when they think we're not looking. On our walk we also came across the remains of a large turtle on the beach, which we thought was a rock, but which the dogs soon discovered wasn't.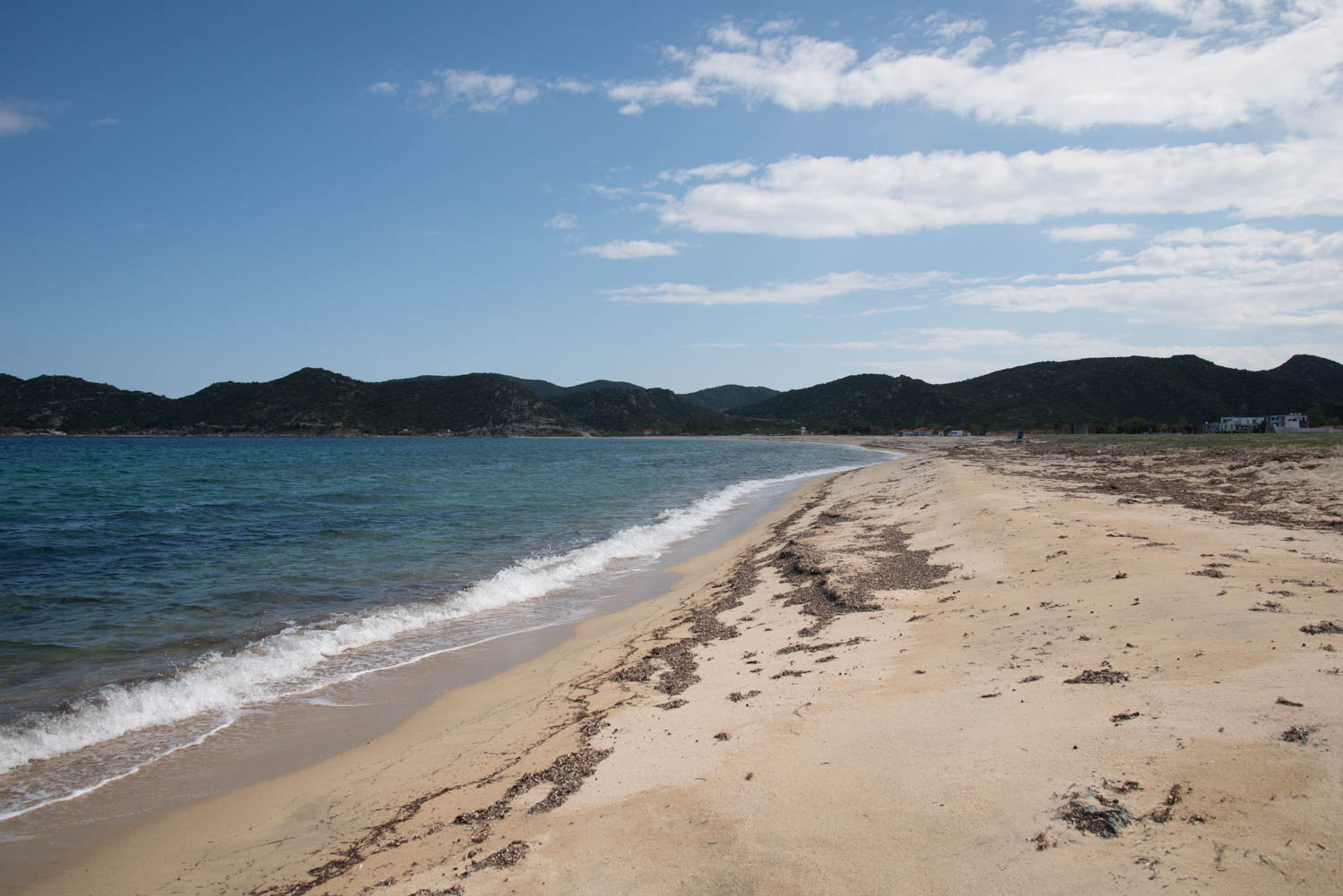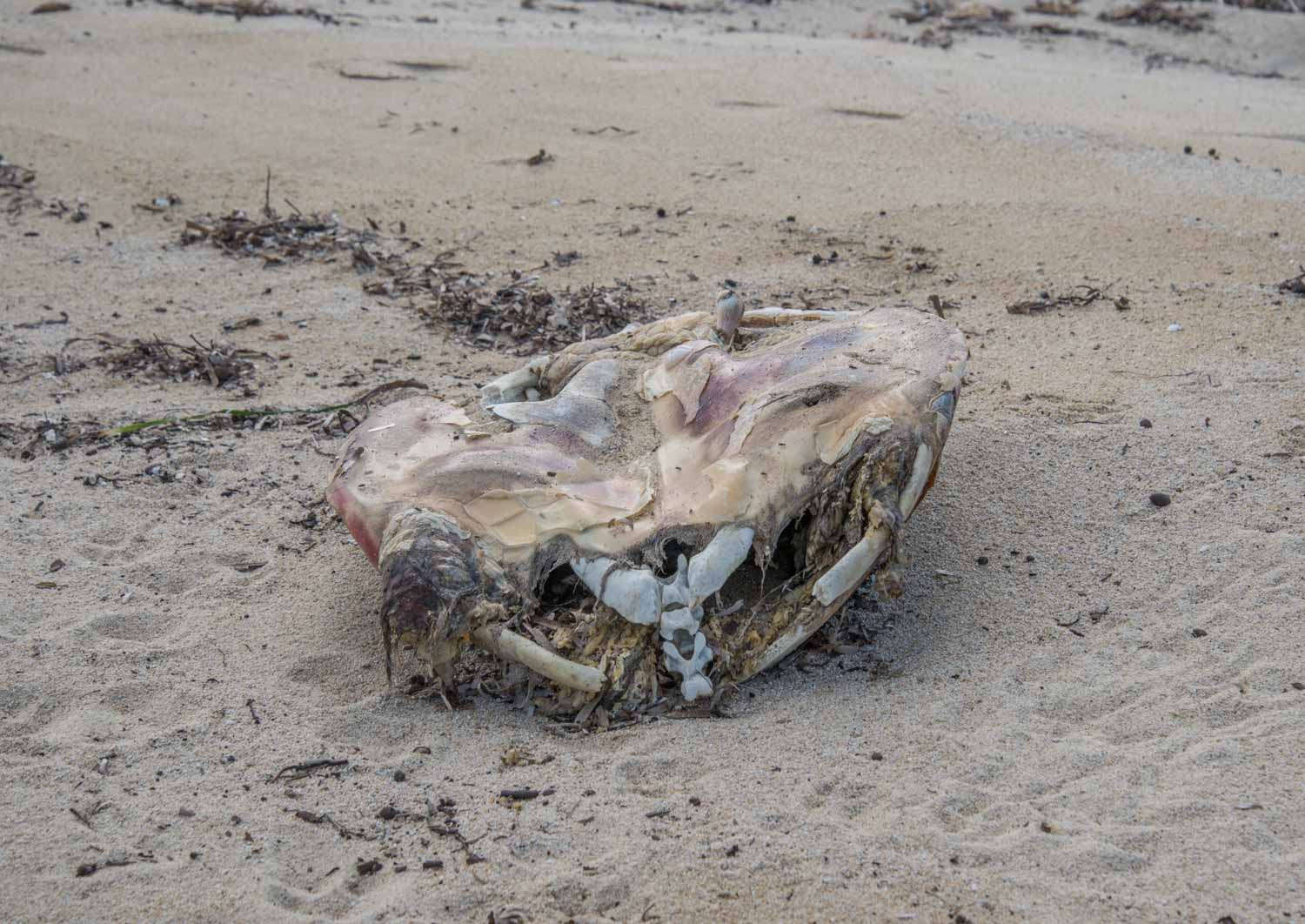 Facing us, across the Sigitikos Gulf is the last of the three peninsulas which which extend southwards from the Northern Greek coastline. This peninsular is known by the name of Mount Athos after the 2000 metre mountain at its southern end. Sarah was, rightly, most offended when I told her that women were forbidden from entering the entire peninsular because it is occupied by Orthodox Christian Monasteries and monks from all the Orthodox countries.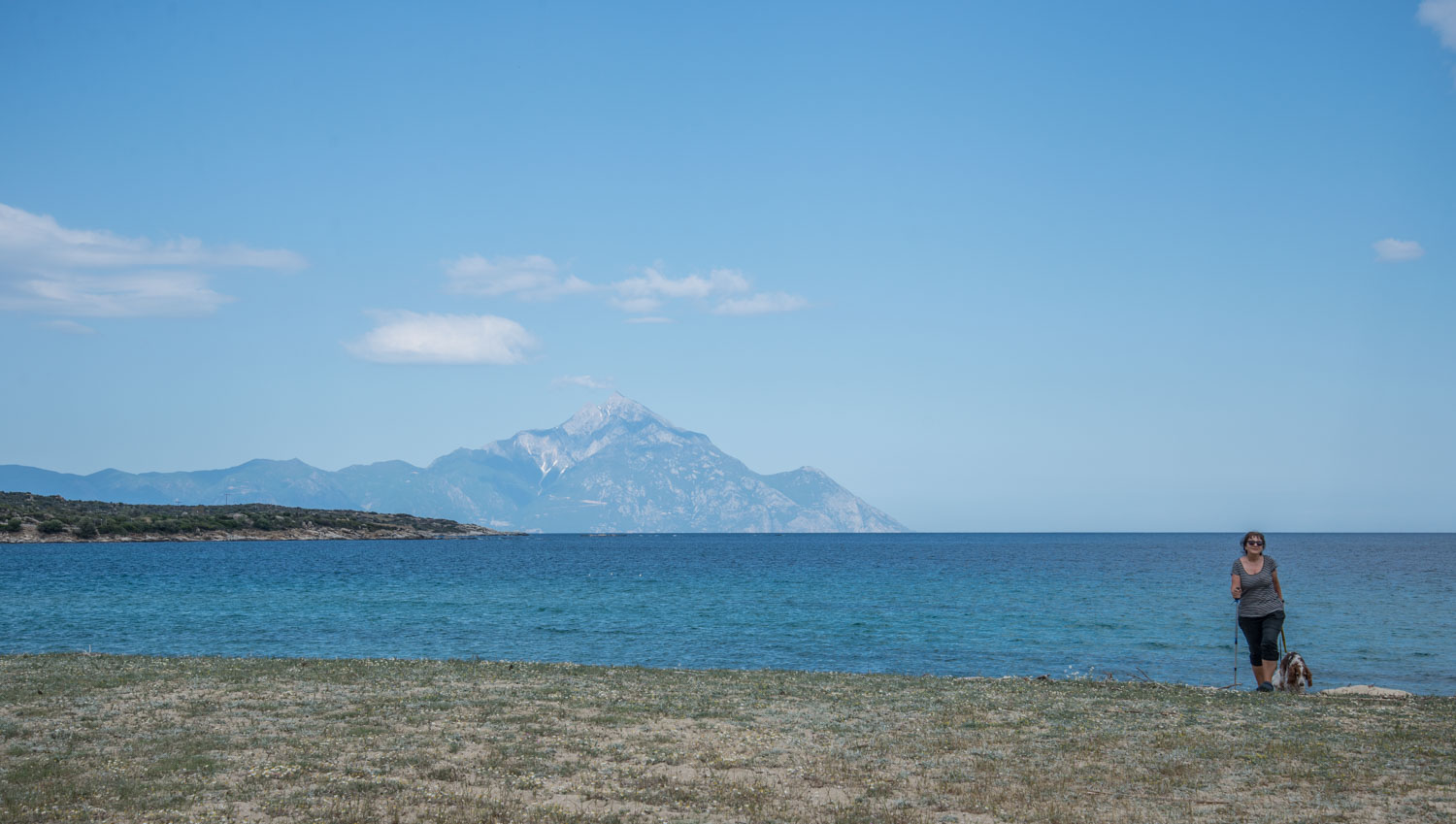 She asked how women can be excluded in this day and age and I had to confess I didn't know, but in the modern age it is easy to research. Firstly it is legally part of Greece and the EU but is is governed by the Orthodox Patriarch in Istanbul. You may know, and if your British you certainly will, that for the past three years the EU has been telling Britain that there can be no cherry picking over the core principals of the EU, namely freedom of movement for people, goods and services. Well, it turns out that the EU has been a little economical with the truth, because when Greece joined the Union there was a special carve out for Mount Athos and the monks have complete control over which people, goods and services can enter the peninsular. That is why women can be lawfully excluded from Mount Athos but, as far as I know, no other part of the EU!!
So Greece has already partially exited from the EU, but we never knew.