Camping Melissa was reasonable. The campsite facilities were quite good by Greek standards. They even had toilet paper and toilet seats, which is very upmarket for southern Europe. But its achilles heel was that it wasn't built on the sea, but rather 100 metres back from the beach, with the intervening land being grazed by sheep and cluttered by abandoned buildings which had been a municipal campsite which had gone bust.
The community had made a big effort to make the beachfront attractive with a new, lit, broad pavement, but with the abandoned buildings and the ubiquitous sheep droppings the whole beach area was just a little run down.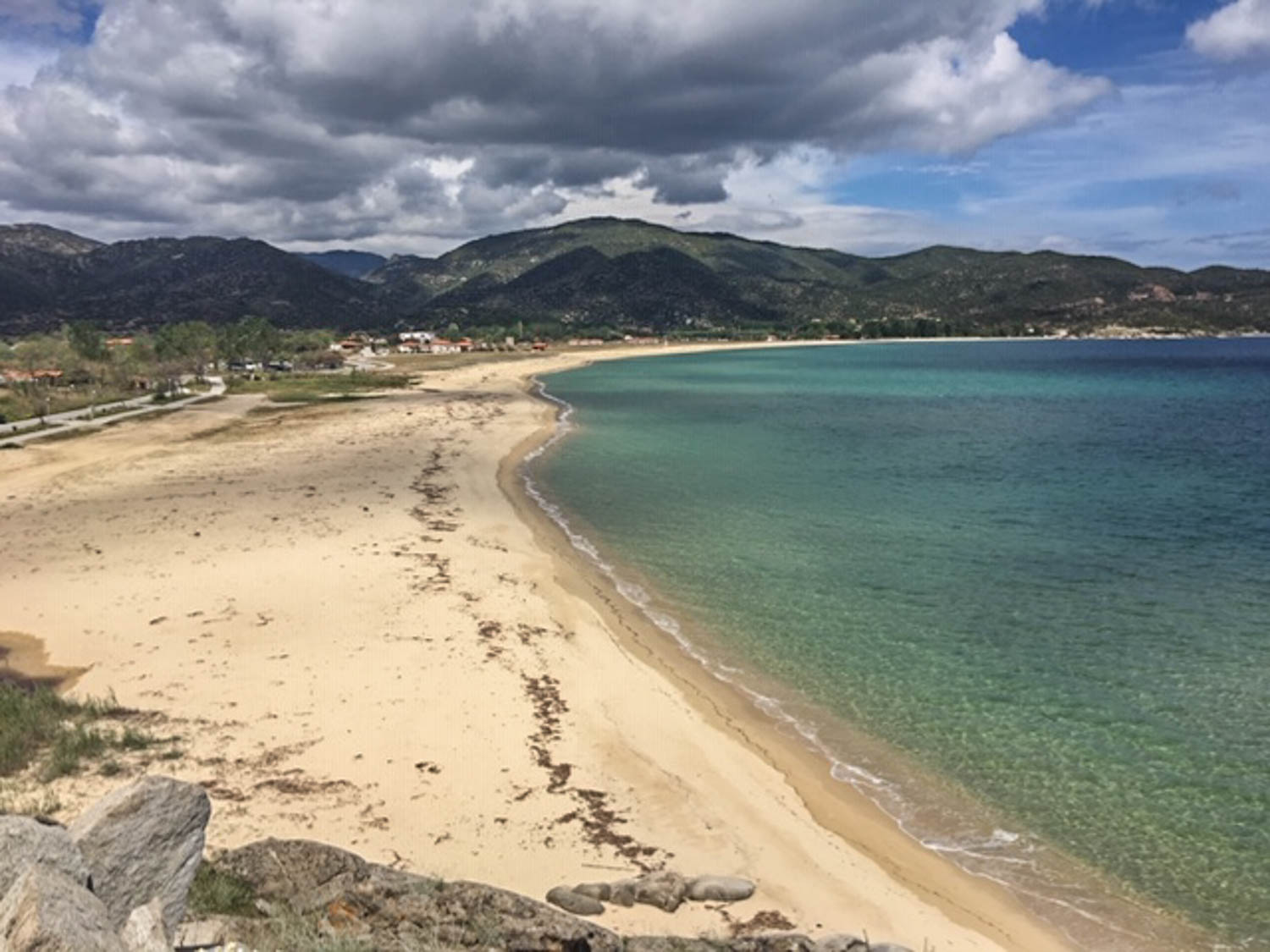 Yesterday we walked the two kilometres or so to the next two bays on the coast, both of which had a small hotel and a couple of tavernas and looked lovely places to spend a holiday, if you didn't want much action.
In the evening we repeated the walk to the first bay and ate at a typical small Greek restaurant, where all the other customers were locals. They started by giving us a menu, and having spent a few minutes choosing what we wanted the owner came to take our orders and told us that they weren't offering most of the things on the menu and instead gave us five or six options, of which those chosen were delicious. We ordered half a litre of white wine and then as we were nearing the bottom of the jug another half a litre appeared "on the house"!
During our meal the owner of the restaurant took his fishing rod and we could see him fishing from a rock outcrop. After about 20 minutes he returned with a large fish in his hand. I'm sure it was immediately put on the menu! After an excellent evening we staggered back to Basil, grateful that the council had thought to put lights on their lovely footpath.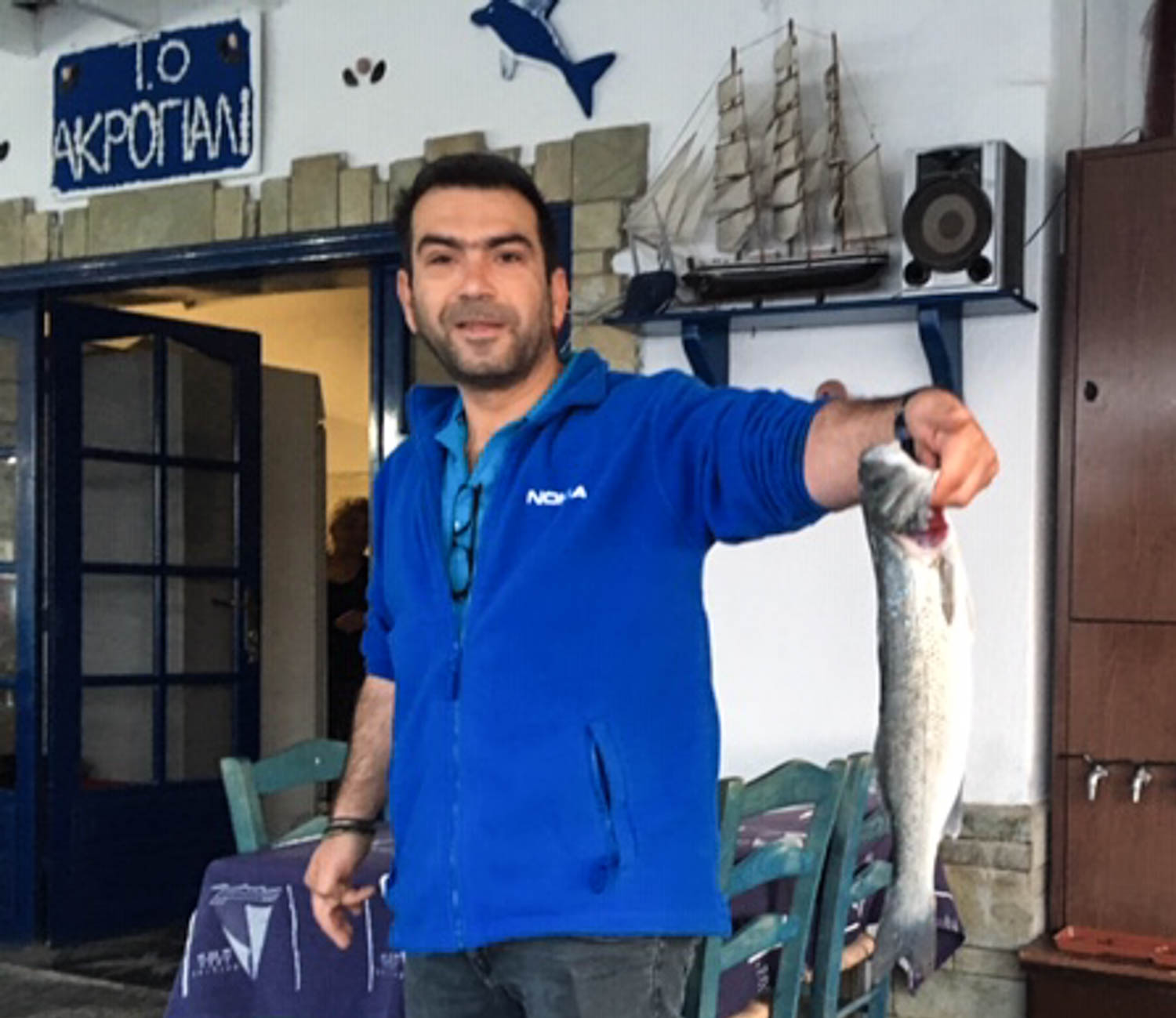 As usual, when we are on site, the campers around us can provide us with mild entertainment and probably us to them. I already mentioned the speedo/lederhosen wearing German, but behind us we discovered some more Germans who started drinking beer at 10.30 am and then seem to continue all day.
This morning it was overcast, windy and frankly cold. The weather forecast told us that the rest of Greece was bathing in sunshine, so we decided this must be a local weather phenomena related to being on a peninsular and that we should move to a nearby and favourite campsite from 2017.
En route I programmed in a stop at Olynthos, a not much visited but fascinating ancient site. Olynthos was a town built on a hilltop in about 700 BC. Having been razed to the ground by the Persians it was rebuilt in 450 BC. Today the ruins are a rare example of an unmodified classical town built on a grid pattern of the Greek architect Hippodamus. It is also the site of the earliest two story houses found from the classical world.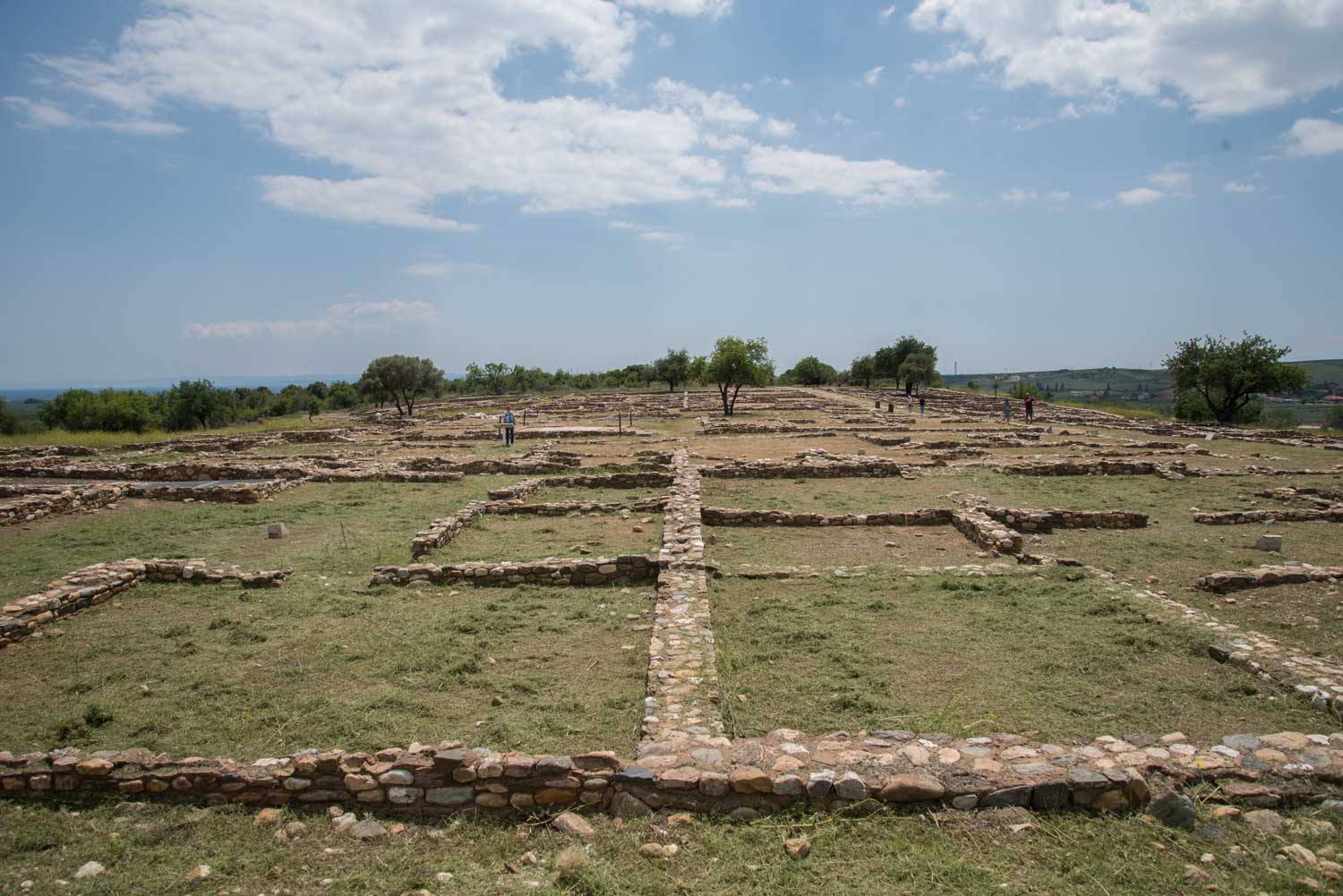 The site gives you the view of an entire ancient Greek town, albeit that the walls are only 50 cm or so tall. Most of the mosaics have been moved to museums but one large example has been left in place, but is very faded.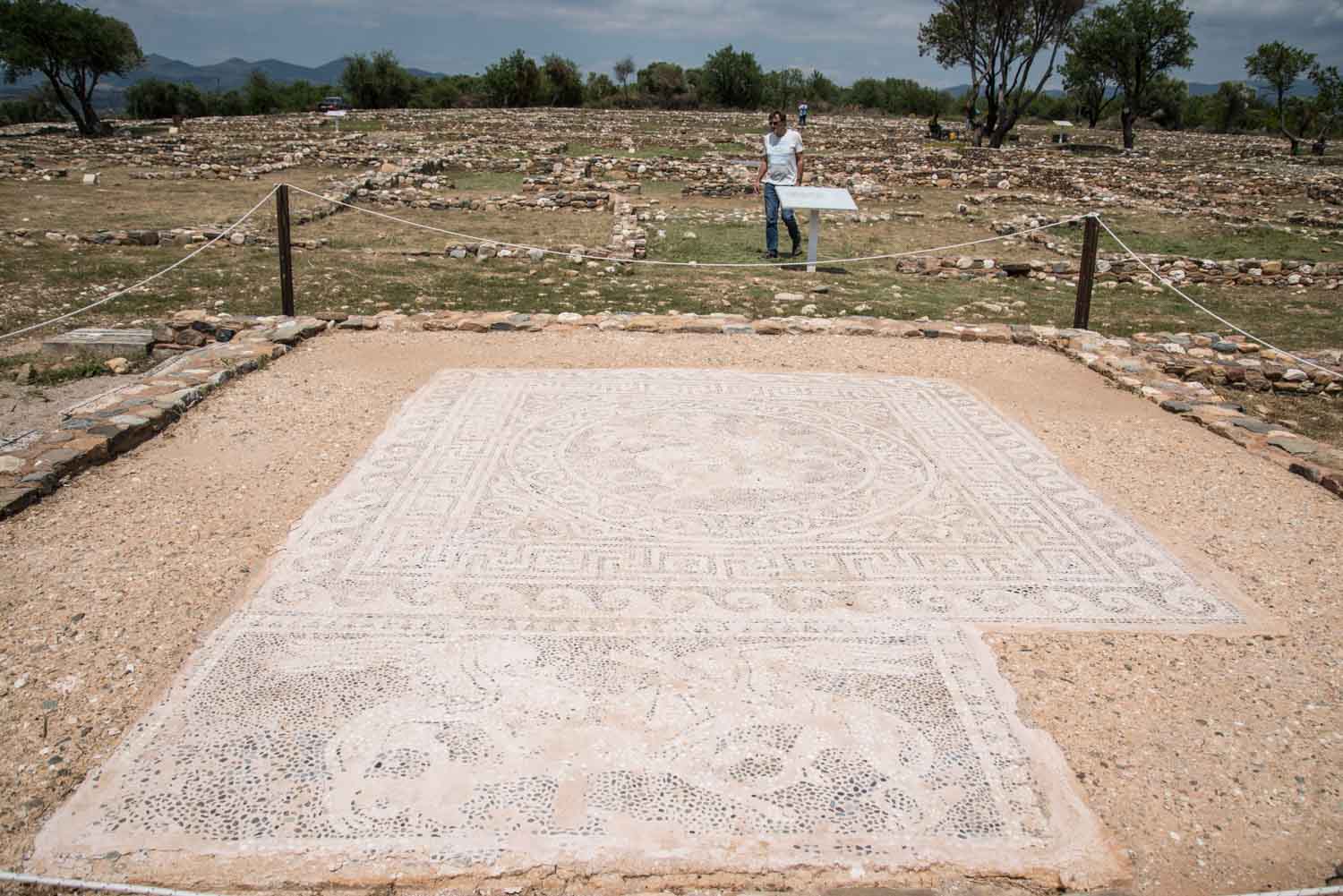 The town's nearest water supply was several kilometres away and conveyed to the town by a clay pipe network. Piped water 2,500 years ago!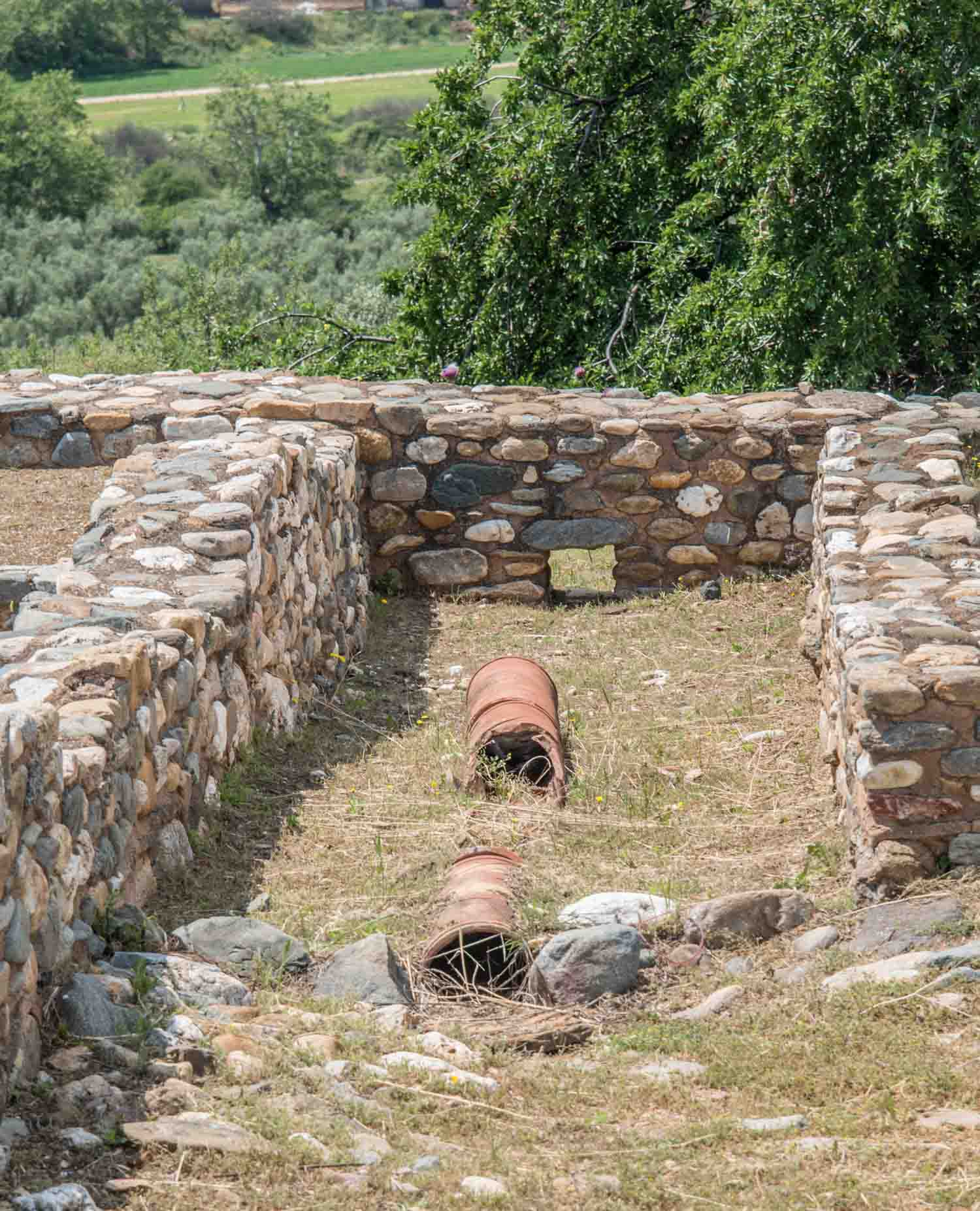 Some of these ancient sites leave me cold, because I am not knowledgeable enough to decipher them, but Olynthos is comprehensible to anyone and all you can do is wonder at the ancient Greeks building a grid based town with running water while us Britons were still living in mud huts at best.
We finished the day by parking up at Camping Ouzouni beach (40.216230, 23.317188 €16 on ACSI). There are in fact two Camping Ouzouni beaches, next to each other. It used to be one big campsite but apparently two brothers fell out and split the site in two. The one where we are pitched is the right hand one owned by "our" Mr. Ouzouni, who unlike his brother, has upgraded his site to a very high standard for Greece. Brand new washblocks and all pitches divided from each other by hedges. The day to day running of the site is handled by a Liverpudlian woman who has been living in Greece for years.
Motorhomes are not allowed immediately next to the beach because the pitches are not big enough, but we are one row back with a clear view of the sea.
At the moment the site has 21 Dutch motorhomes who are part of a touring group. We have come across this before on our travels, some Dutch do like to travel in organised groups. Tonight is their last and so tomorrow the site should be a good deal quieter.